Pitch Possible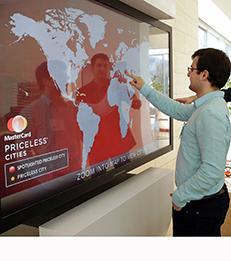 This project was a great reminder that, sometimes, simple insights can make monumental changes. - MBA alumnus Martin Lynch
Through a new experiential-learning course, MBA students consulted with Mastercard to help reinvent one of the company's innovative global platforms.
Completed core classes? Check.
Strengthened résumé, practiced interview skills and increased professional network? Check.
Pitched the Chief Marketing Officer of a major multinational corporation? Check.  
This spring, MBA students in the experiential-learning course Consulting Lab: Branding + Innovation, led by Professor
Fran Gormley
, had the opportunity to consult with senior Mastercard executives on a current marketing challenge facing the organization. Through a series of corporate presentations and project briefings, the students – divided into five teams – learned how the payments industry works, analyzed competitors' offerings, created a strategic framework for their concepts and presented innovative ideas to help reinvent one of Mastercard's global platforms, Priceless Cities.  
"What made this project simultaneously challenging and rewarding was how open-ended it was. Mastercard briefed us with some general guidelines, but each team otherwise had complete freedom to think creatively and come up with an out-of-the-box solution," recalled MBA student Kimberly Meskimen. "We had to think large- and small-scale, global and local, urban and suburban to effectively address our ultimate goal of connecting different countries and cultures."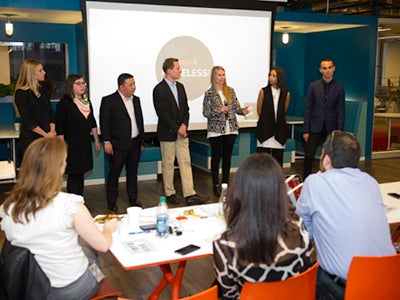 In addition to guest lectures with Mastercard and McCann XBC executives, the students were invited to the company's headquarters in Purchase, NY and its technology hub in New York City to see first-hand how the organization utilizes complementary marketing channels, such as social media, to support its business development goals. Kimberly noted, "Our meetings at Mastercard were invaluable – both for this project and our future careers. We had the opportunity to discuss our ideas with senior business leaders and, in turn, learn from them about what's new and forthcoming in the company, what types of solutions they consider innovative and how technology is helping to bridge global gaps in the payments industry."
Building on these insights, the students worked with Professor Gormley to refine their presentations for the final pitch-off, during which the executive team would select one team to share their concept directly with Mastercard's Chief Marketing and Communications Officer, Raja Rajamannar. Recent MBA alumnus Martin Lynch, reflected, "Professor Gormley's feedback was critical to our success. She allowed us total autonomy to explore creative solutions, but she also used examples from her vast professional experience to help us pinpoint the right questions that could lead to the most benefits for our clients. This project was a great reminder that, sometimes, simple insights can make monumental changes."
These "simple insights" landed the first-place team – including Stephanie Beran-Sanderson, Janelle Lloyd, Martin Lynch, Rommel Macaraeg, Kimberly Meskimen, Caitlin O'Shaughnessy and Alexander Tanev – back in Mastercard's technology hub, discussing their strategic assessment and solutions with Mr. Rajamannar and discovering first-hand the value of an innovative idea, an adaptable approach and an open ear in business.
 "Presenting to Mr. Rajamannar and the executive leadership team was such a positive and rewarding experience," Kimberly said. "They asked poignant, thoughtful questions that gave us a better understanding of how Mastercard approaches a problem and pushed us to consider how we could further develop and execute our idea into a viable solution."
"It was impressive to see such a large, multinational brand approach a pivot point for its business and re-evaluate its strategy so thoroughly," Stephanie said. "When something is not working as well as it could for your brand, there's a point at which you have to listen to – and engage with – your consumers and find a way forward for your investment. By partnering with us on this project, Mastercard was doing just that as we worked on parallel paths to address this real-world, real-time opportunity."
---