Stern Stories
Sustain Possible
Jeffrey Hollender, Co-Founder and former CEO of Seventh Generation, and Meika Hollender (MBA '13) Co-Founder and Co-CEO of Sustain Natural, joined Professor Tensie Whelan, MBA students and alumni for a 2017-18 Speaker Series Event
Jeffrey Hollender, Co-Founder and former CEO of Seventh Generation, and Meika Hollender (MBA '13) Co-Founder and Co-CEO of Sustain Natural, joined Professor Tensie Whelan, MBA students and alumni for a 2017-18 Speaker Series Event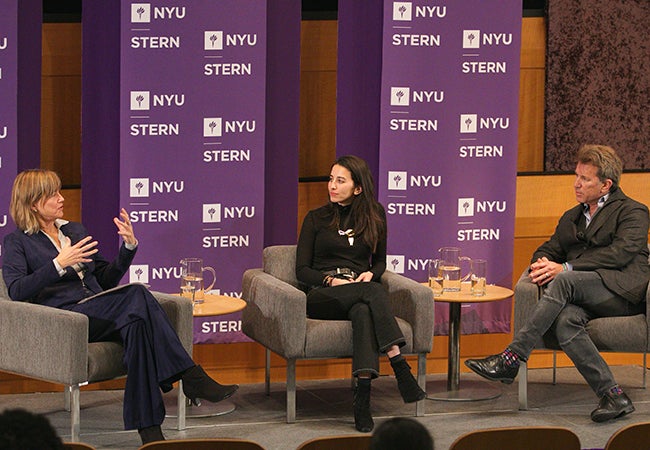 Jeffrey Hollender, Co-Founder and former CEO of Seventh Generation, and Meika Hollender (MBA '13) Co-Founder and Co-CEO of Sustain Natural, joined MBA students and alumni for a 2017-18 Speaker Series Event. Professor
Tensie Whelan
, Director of Stern's
Center for Sustainable Business
, moderated the discussion, followed by a Q&A session.
Founded in 1988, Seventh Generation burst onto the sustainable business scene, growing into one of the country's leading natural product brands with annual sales of more than $150 million. The company rose to prominence by focusing on authenticity, transparency and progressive business practices. After the company was acquired by Unilever in 2016, Jeffrey and Meika co-founded Sustain Natural, a new brand of sexual and reproductive wellness products for women. Sustain debuted the first sustainable, fair trade, non-toxic condom in the United States and aims to revolutionize the women's wellness space by creating environmentally-friendly and natural products.
"We've gotten confused between what is a good product and what is a 'less bad' product," said Jeffrey Hollender. "We need to build products that have a regenerative effect on the environment."
The founders spoke about the challenges associated with working as a father-daughter team, recognizing the unique circumstances surrounding their venture.
"We spent a lot of time working on our relationship, both professionally and personally," noted Meika Hollender. "That was extremely important to us. I'm not sure that we could have made it work without that. I've really started to see the incredible value of everything that my father built and how amazing it is that I have this resource to help me navigate the challenges of business."
"I've been incredibly lucky to share what I've learned throughout my career with Meika," added Hollender. "It's a wonderful gift."
Throughout the event, the duo offered valuable advice to students and alumni who seek a career path in the sustainable business industry:
Take classes that seem scary and challenging instead of gravitating toward what you feel comfortable studying.
Put your whole heart into your passion; no business will be successful without a full commitment to success.
There has never been a better time to break into the sustainable business field; the need for environmentally and socially-friendly products is greater than it has ever been.
___
This Langone Speaker Series event was hosted by Stern's MBA Office of Student Engagement.