Win Possible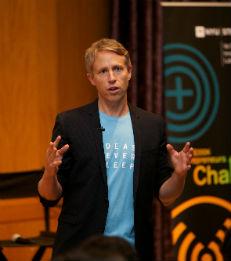 In the end, each team emerged with a new business concept that imagines a powerful market disruption and a plan to transform it into reality. - Professor Luke Williams
NYU venture teams win $200K in Stern's Entrepreneurs Challenge.
At the conclusion of an eight-month competition, NYU's most promising innovators received a combined $200,000 in start-up cash at the annual $200K Entrepreneurs Challenge, held by NYU Stern's
Berkley Center for Entrepreneurship & Innovation
. The three winning teams – composed of students, faculty and alumni from across the University – were chosen after pitching their ideas and enduring Q&A by judges from venture capital, technology and design, and social enterprise sectors.
May 1 marked the culmination of one of the largest and most rigorous venture competitions in the world. Some 249 teams comprising more than 750 entrants from 16 schools at NYU competed this year in one of three challenges: New Venture, for those pursuing start-ups in a variety of sectors; Social Venture, for those pursuing both social impact and financial sustainability; and Technology Venture, for those focused on bringing intellectual property developed at NYU to market. The awards presented in each category were:
New Venture Competition Winner
The $75,000 Rennert Prize, made possible by a gift from Stern Board of Overseers member Ira Leon Rennert (MBA '56), was awarded to
RecoverLINK
. Started by NYU Stern alumnae Laurie Thackeray (MBA '12) and Christina Anzalone (MBA '12), along with Maggie Doll, Genna Doll and Bhavya Dhulia, RecoverLINK is a mobile healthcare technology designed to transform how heart failure patients experience care and recovery after being discharged from the hospital.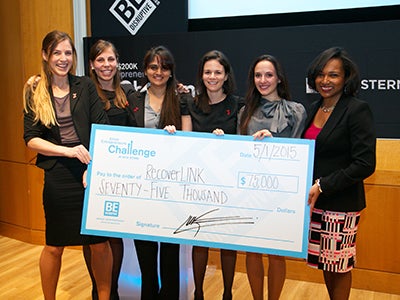 Social Venture Competition Winner
The $50,000 Social Venture Prize was split between two teams:
SayCel
and
VVF Cup
.
Founded by NYU student Edwin Reed-Sanchez from the Tisch School's Interactive Telecommunications Program (ITP), along with Ariel Hamilton and Thomas Pruitt, SayCel provides emergency and low-cost cellular service to regions around the world without cellular coverage as well as areas where the cost of communication is prohibitively expensive. SayCel currently runs a cellular network in Little Corn Island, Nicaragua.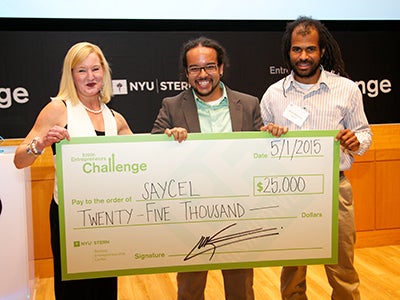 The founders of VVF Cup have developed a simple device that offers women and girls in the developing world an affordable, accessible means to internally collect leaking urine resulting from an injury sustained during childbirth called vesico-vaginal fistula (VVF). Addressing a highly stigmatized and isolating problem associated with decreased quality of life and early death, VVF Cup provides women users with a non-surgical alternative that encourages reintegration into society. VVF Cup was developed by Professor Joonhee Park from NYU's School of Medicine, Professor Joanna Pozen from NYU's Global Institute of Public Health and PhD student Nessa Ryan from NYU's Global Institute of Public Health.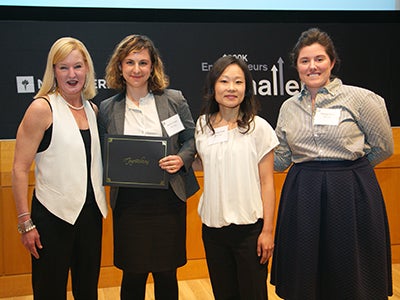 Technology Venture Competition Winners
The $75,000 Technology Venture Prize was awarded to
Ephemeral
, which has engineered a tattoo ink and unique removal solution that allows tattoo lovers and hopefuls to control the lifetime of their tattoos. Co-founded by NYU Polytechnic School of Engineering students Jason Candreva, Anthony Lam, Vandan Shah and Seung Shin, along with NYU Poly Professor Brennal Pierre and NYU Stern undergraduate student Joshua Sakhai, Ephemeral provides a safe tattoo application process and a user-decided bio-removal system, which avoids painful, costly and ineffective laser surgery.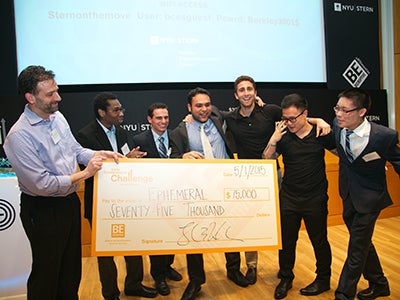 The Technology Venture Competition is co-sponsored by the NYU Innovation Venture Fund and EisnerAmper LLP.
"Over the past eight months, our 14 finalists were provoked, prodded and praised by our coaches, mentors and evaluators," explained
Luke Williams
, executive director of NYU Stern's Berkley Center for Entrepreneurship & Innovation. "In the end, each team emerged with a new business concept that imagines a powerful market disruption and a plan to transform it into reality."
"Entrepreneurship is a true team sport," said
Frank Rimalovski
, executive director of the NYU Entrepreneurial Institute and managing director of the NYU Innovation Venture Fund. "This year's fourteen finalists were composed of team members from seven different NYU schools and colleges. The Entrepreneurs Challenge provides a unique opportunity for entrepreneurs from across the University to come together and receive the training, support and mentorship to help get their ideas and inventions to market."
"This year, we saw new ventures addressing a number of business, global and societal issues including detecting mental health disorders to aid in effective intervention; rehabilitating water and sanitation infrastructure systems for schools in Ghana; and offering an affordable means to address a common ailment among women and girls in the developing world who are afflicted with a permanent birth injury," said
Jill Kickul
, director of Stern's Program in Social Entrepreneurship.
Each finalist team delivered a three-minute pitch followed by a short "Explainer Video" before an audience of NYU students, faculty and alumni, who voted for their favorite teams. This year,
Ephemeral
,
VVF Cup
and
MedTimers
received the
Audience Choice Awards
.
In addition, faculty from Stern's Management Communications Department selected three winners for this year's
Communications Awards
, recognizing
SayCel
,
Cognitive ToyBox
, and
Ephemeral
, for their exemplary presentations.
In recognition of the critical role volunteers play in mentoring, coaching, and judging the teams throughout the competition,
Jo Singel
received this year's
Volunteer-of-the-Year Award
, presented by the Berkley Center's Loretta Poole.
New this year, a
Microsoft Award
, recognizing the best use of technology, was presented by Maria Naggaga, a tech evangelist at Microsoft, to
WizArt
,
RecoverLINK
and
CookScience
.
This Year's Judges
Technology Venture Competition: David Aronoff, general partner at Flybridge Capital Partners; John Elton, partner at Greycroft Partners and NYU Stern alumnus (MBA '00); Lawrence D. Lenihan Jr., founder and managing director of FirstMark Capital; Will Porteous, general partner and chief operating officer of RRE Ventures; an Misti Ushio, chief strategy officer and managing director of Harris & Harris Group.
Social Venture Competition: Lara Galinsky, senior vice president of Echoing Green; Daniel Katz, senior program director at The Overbrook Foundation, adjunct professor at Stern and a Stern alumnus (MBA '96); Greg Van Kirk, co-founder of Community Enterprise Solutions and Social Entrepreneur Corps; and Sean Moore, portfolio manager in the New York office of Acumen.
New Venture Competition: William R. Berkley, chairman and CEO of W. R. Berkley Corporation, chair-designate of NYU's Board of Trustees, chairman of Stern's Board of Overseers and Stern alumnus (BS '66); Brian Cohen, chairman of the New York Angels; Robert Fabricant, co-founder and principal of Dalberg's Design Impact Group; and Jalak Jobanputra, founding partner of FuturePerfect Ventures.
Find out more about Stern's Entrepreneurs ChallengeVisit the NYU Stern Berkley Center for Entrepreneurship & Innovation website
---