NYU Stern Welcomes Its First Fertitta Veterans Program Scholars
BY MARILYN HARRIS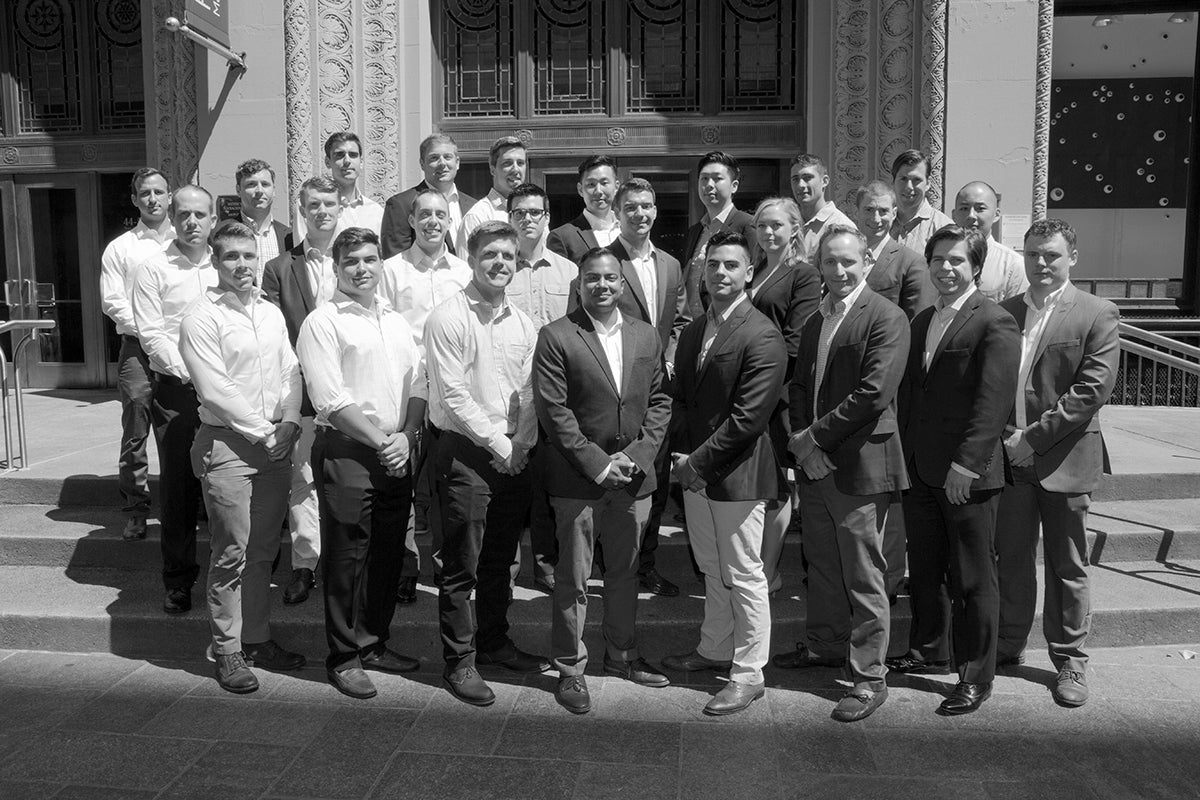 NYU Stern's tight knit military veterans community had been growing steadily when the Fertitta Veterans Program was launched just before Veterans Day in 2016. Lorenzo Fertitta (MBA '93) and his brother Frank J. Fertitta III created the Fertitta Veterans Program with a $15 million endowment aimed at creating a community of support for military veteran students at Stern.  
"My brother Frank and I have always been committed to assisting those who have proudly served our country and hope the Fertitta Veterans Program encourages many of our military veterans to earn their MBA from my alma mater," said Lorenzo Fertitta.
Through the program, students receive scholarship support that reduces their tuition to a flat $30,000 per year, plus they can continue to receive other applicable veterans' benefits, such as Yellow Ribbon funding.
The Fertitta Veterans Program, believed to be the only program of its kind at a US business school, is exclusively for military veteran and active-duty students entering the full-time MBA program. It is a holistic program that includes scholarships, career programming, access to corporations and alumni, engagement with veteran alumni mentors, and social activities to meet their new classmates. The students in the Fertitta Veterans Program begin with a unique summer boot camp—open to all entering veterans and active-duty students—in the weeks preceding matriculation. The session is specifically designed to ease the transition from the military to business school and eventually to the business world.
Today, a record 7 percent of Stern's MBA Class of 2019 are military vets, the highest number ever. Said Dean Raghu Sundaram: "Stern's commitment to vets is a prime example of our heritage as a School for 'all.' Thanks to the generous support from Frank and Lorenzo Fertitta, we are able to create programs and opportunities to help our military veteran students thrive while at Stern and beyond in their careers."
The initial summer session took place last July and August and welcomed 25 students. At the end of the session, the students participated in LAUNCH, Stern's week-long MBA orientation for incoming full-time MBA students. Said Chris Costello (MBA '19), a Fertitta Scholar: "This summer, I took Financial Accounting and Statistics with the incoming veterans group, which was a great way to get back into an academic mindset prior to the fall semester. Additionally, I was able to visit top consulting, banking, and technology firms, which allowed me to not only learn about the tremendous opportunities available to Stern students, but to also build a network of contacts I could draw on in the fall. Most important, the summer session allowed me to bond with my veteran peers, interact with Stern veteran alumni, and receive tailored programming and mentorship from the Stern administration."
For the incoming students this past fall, Stern's appeal was evident. Said Julia Taylor (MBA '19): "Two aspects of Stern stood out from other business schools: its location in the center of business and the endless opportunities that provides, plus the importance Stern places on the veteran community. No other school I considered placed nearly as much value on the veteran experience or makes the transition as seamless."
The Fertitta Veterans Program builds on a commitment to veterans that's been gathering momentum over the years. In 2005, the Military Veterans Club was created at Stern by Mike Scotti (MBA '07), now head of finance for Sen-Jam Pharmaceutical, author, speaker, and documentary filmmaker. "Very soon after our arrival at Stern," Scotti recalled, "we were immersed in the intense recruiting process for summer internships. It became quickly clear there was already a loose and 'unofficial' network of military veteran alumni that were active in the recruiting process. So I figured a formalized club would be a powerful tool that would benefit the students, the alumni, and the institutions that wanted to recruit us. We focused on three things, which I believe still endure today: recruiting, strengthening the Stern community, and giving back." Since Stern, Scotti has continued to devote his time to supporting the veterans community through speaking engagements focused on cultural competency for those who interact with military veterans. He also produced a documentary film "Severe Clear," which chronicles his infantry battalion's tie in Iraq, and published a book,
The Blue Cascade: A Memoir of Life After the War.
The club maintains a series of events and treks aimed at strengthening the bonds between the current student-veteran and alumni-veteran networks. A prime example is the club's yearlong mentorship program that pairs first-year MBA students with second-year MBAs. "The purpose of this mentorship is to provide a one-on-one touchpoint for MBA1s to seek advice regarding the recruiting process, validate assumptions, and conduct a resume review," said Mark Lomedico (MBA '18), current club co-president. "I think through shared experiences as veterans, alumni, and current students, we build a unique bond that allows for valuable relationships to take place," Lomedico said.  
Today, the Military Veterans Club boasts 78 members—including full-time, part-time, and Executive MBA students—and sponsors programs that assist in applying to Stern, coordinating benefits, and navigating its opportunities successfully. "The military community at NYU Stern is incredibly strong and dedicated to helping veterans transition into civilian life," said Kris Kesting (MBA '18), also club co-president. "One of the best parts of the Military Veterans Club is our outstanding working relationship with the MBA admissions department. We're able to work closely with the staff to get in touch with prospective students and admitted veterans before they arrive on campus. The relationships we build are instrumental to the incoming veterans' ability to hit the ground running when they arrive on campus. We have been told many times that the personal touches we emphasize at Stern make our veterans club stand out from those at other top-tier business schools."  
SUPPORT FOR VETS AT STERN CONTINUES TO GROW
In honor of Veterans Day last fall, Stern hosted a breakfast meeting with friends of Stern, military veteran alumni, and students to talk about how the School is supporting vets in their transition to academic life, as well as areas for strengthening Stern-industry partnerships for both recruitment and scholarship goals. "One of the key goals right now is fostering even greater relationships with alumni and companies that are eager to partner with us in furthering the Fertitta Veterans Program and supporting military students through recruitment and scholarship opportunities," said Dean Sundaram.
Mike Taylor (MBA '14), was an Army aviator who flew UH-60 Blackhawk helicopters for 11 years. After graduating he spent three years as a project manager at American Express. Currently an executive at JPMorgan Chase and a former club member, he is now chair of the new military veterans alumni committee. He explained, "Stern has given me so much that I want to give back. The Military Veterans Club not only provides a safe community for veterans to figure out their place outside of the military, but also a platform for us to educate our classmates on what life was like in the military." His aim for the alumni committee is first to bridge the gap between student and alumni vets, and then to enable students to use those connections for career advice and opportunities. "One of our biggest struggles as student veterans is figuring out what direction to take our careers, and the experiences of alumni veterans is invaluable to helping us make those decisions," he said. "Stern veterans bring a different worldview and toolbox to the table, and that combined with the Stern education produces a unique asset to a company in that you can throw almost anything at us and we will be able to handle it. Every single alumni veteran wants to be able to help in any way they can."
These new programs and the increase in experiential learning opportunities are an outgrowth of Stern's core purpose—to provide a unique education and develop people who will be equipped to transform challenges into opportunities. In fact, these latest developments are a natural part of an ongoing cadence of relevant offerings from Stern.
According to Sundaram, even more innovations are planned for the near future that take advantage of online collaborative learning technology and NYU's global footprint.
As the changing economy races forward, Henry believes that NYU creates successful people that can compete at the front of the pack. "Our goal is to deliver graduates with C-level acuity, and an entry-level attitude," he says. "It's how we stay as relevant to the new economy as we are to Wall Street."  
For Stern, much of this decade has been devoted to building on a solid foundation through Stern's tradition of innovation. The way Stern views its purpose, its programs and its place in business and society continue to evolve, resulting in a business school with strong forward momentum, bolstered by solid outcomes.  
"Without a world-class faculty, top-notch students, innovative partners and dedicated alumni locking arms, none of this is possible," said Henry. "Stern is a product of talented people with diverse perspectives, working together collaboratively. It's a special place with a unique point of view."  
---
SERVE POSSIBLE
MILITARY VETERAN STUDENT PROFILES
 
Chris Costello 

(MBA '19)

Fertitta Scholar
HOMETOWN: WEYMOUTH, MASS.

▶ Served in the Coast Guard and attained the highest level of tactical operator, Deployable Specialized Forces; trained for MSRT, an anti-terrorism mission against domestic terrorism threats.
Career Goal: Management consulting
 
 

---

Julia Taylor 

(MBA '19)

Fertitta Scholar
HOMETOWN: BERRYVILLE, VA.

▶ Served as a logistics officer in the US Army for four years at Fort Riley, Kan., and Fort Hood, Tex.
Career Goal: Brand management
 

---

Kris Kesting 

(MBA '18)

Co-President of the Military Veterans Club at Stern
HOMETOWN: HYDE PARK, NY
​
▶ Served as Active Duty Coast Guard officer leading counternarcotics missions along the coasts of Central and South America and managing major maritime events in New York Harbor.
Career Goal: Alternative investments
 

---

Mark Lomedico

(MBA '18)

Co-President of the Military Veterans Club at Stern
HOMETOWN: LEXINGTON, MASS.
​
▶ Served as US Army Military Intelligence Officer, 101st Airborne Division (Air Assault) at Fort Campbell, Kentucky; deployed to Afghanistan in 2013.
Career Goal: Financial services
---