Mission & Philosophy of the Department of Accounting
The mission of Department of Accounting is to create, debate and disseminate knowledge about the measurement and communication of financial and non-financial information that will inform our students, alumni, managers and capital market participants and facilitate rational financial, economic and policy decisions.
– Message from the Department Chairmen
Stern's Department of Accounting offers a wide range of courses and programs for students interested in acquiring the skills that will better enable them to serve the information needs of professional clients and the organizations that employ them.
We offer a Ph.D. degree with an emphasis in accounting as well as an M.B.A. degree with a major or double major in accounting. Students often select a menu of courses stressing financial statement analysis. In the undergraduate college, we offer two accounting majors - one with a C.P.A. emphasis; the other less technical in nature. The latter option is often taken together with finance or information systems as a double major. All students have access to the faculty of departments throughout the Stern School.

Our faculty are committed to the pursuit of excellence in their teaching and research activities. The Department is consistently ranked as one of the top accounting faculties in the United States, and we pride ourselves in the knowledge that more of our accounting graduates have entered the ranks of senior partner of the major accounting firms than any other business school.fa


Tim Baldenius
Chairman
Vincent C. Ross Professor of Accounting


Alex Dontoh
Deputy Chairman
Professor of Accounting
Frequent Requests
Faculty Spotlight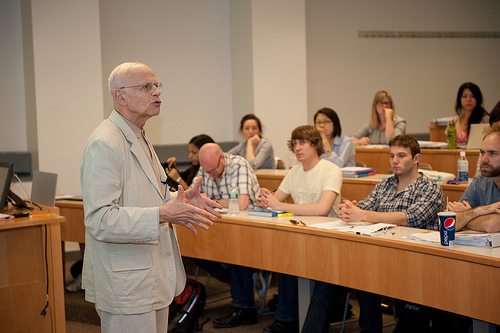 Professor Baruch Lev
Received an honorary doctorate from the Universiteit Hasselt in Belgium (given once every five years), and was appointed as the Copernicus Chair in Economics from the University of Ferrar in Italy.
Professor Eli Bartov
Voted "Great Professor" by the Executive MBA class of August 2014.
Announcements
The Department of Accounting at NYU Stern School of Business is pleased to host the 2014
JLFA, the Journal of Law, Finance, and Accounting
Conference (sponsored by KPMG) on Friday, September 19 and Saturday, September 20, 2014. It will offer an engagement on scholarly work in areas of law, finance, and accounting.
Conference location:
NYU School of Law
Furman Hall | 245 Sullivan Street
New York, NY 10012
For more information
click here
The Department of Accounting at NYU Stern School of Business is pleased to host the 10th Annual NYU Accounting Summer Camp on Monday, June 9 and Tuesday, June 10, 2014. The Summer Camp will feature researchers and faculty members from leading universities.
Conference location:
Henry Kaufman Management Center
44 West 4th Street
New York, NY 10012
For more information
click here
New Faculty
IIan Guttman
Associate Professor of Accounting
Ph.D, Economics, The Hebrew University

Christine Cuny
Assistant Professor of Accounting
Ph.D., Accounting, University of Chicago Booth School of Business


Hao Xue
Assistant Professor of Accounting
Ph.D., Accounting, Carnegie Mellon University


News
Professor Joshua Ronen and his co-author examine why consumers seek financing through credit cards, and they evaluate the consumer impact of the 2009 Credit CARD Act's constraints on increasing interest rates.
Read More
Professor Michael Jung and his co-authors, Franco Wong of INSEAD and Frank Zhang of Yale, develop an early indicator of future changes in firm fundamentals, capital market activities and stock returns.
Read More
Professor Joshua Ronen explains why internal auditors should assess a company's corporate governance and corporate culture.
Read More
Professor Ilan Guttman and his co-authors examine a dynamic model of voluntary disclosure of multiple pieces of private information.
Read More
Professor Yiwei Dou and his co-authors, examine blockholder's influence on a company's financial reporting.
Read More
Professor April Klein on companies that shrink their cash holdings.
Read More
Professor Stephen Ryan was recently nominated to the Federal Reserve Bank of New York's Financial Advisory Roundtable.
Read More
NYU Stern's Ross Roundtable on trends in financial enforcement and securities litigation.
Read more