Finance

At Stern, you are going to get a great return on your investment
Finance describes a wide variety of industries and job functions, from managing the assets of a single organization to tracking and influencing the exchange of currency and stocks.
Selected Finance Employers of NYU Stern MBAs
American Express
Bank of America Merrill Lynch
Barclays Capital
Blackstone
BNP Paribas
Citi
Credit Suisse
Deutsche Bank
General Electric Company
Goldman Sachs
Guggenheim Securities
HSBC
JPMorgan
Liberty Mutual
PIMCO
Prudential
RBC Capital Markets
Standard & Poor's
UBS
Wells Fargo Securities
Learn about
Career Development
at Stern and view more
Stern employers
Michael Price Student Investment Fund (MPSIF) Course
Provides students interested in pursuing asset management with hands-on experience managing a real fund
Features senior-level guests, like Ted Tabasso, Deutsche Bank Managing Director and Global Research Product Director
View the video below to learn more about the MPSIF experience: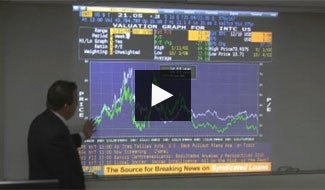 Student Clubs
Graduate Finance Association (GFA)
Real Estate Club (REC)
Sales and Trading Club
Stern Hedge Fund Association (SHFA)
Stern Investment Management and Research (SIMR)
Stern Private Equity Club (SPEC)
Related Specializations
Accounting
Banking
Business Analytics
Corporate Finance
Economics
Finance
Financial Instruments and Markets
Financial Systems and Analytics
Quantitative Finance
Real Estate

Dual Degree Offering
The
MBA/MS in Mathematics in Finance dual degree
is a partnership between NYU's Stern School of Business and
The Courant Institute of Mathematical Sciences
, both highly regarded in their fields. The mix of financial and quantitative skills provided by this program will make its graduates strong candidates for positions in quantitative risk and portfolio management and the design, pricing, trading and hedging of structured products.

Related Electives at Other NYU Graduate Schools
Approved classes at NYU School of Law:
Corporations
Mergers and Acquisitions
Survey of Securities Regulation
Approved classes at NYU Graduate School of Arts and Sciences:
Development of Economics
Economics/Financial History of Europe
Math for Economists
Seminar in Econometrics
Theory of Economic Development
Approved classes at NYU Courant Institute of Mathematical Sciences:
Derivative Securities
Financial Engineering Models for Corporate Finance
Case Studies in Financial Modeling