The End of Accounting and the Path Forward for Investors and Managers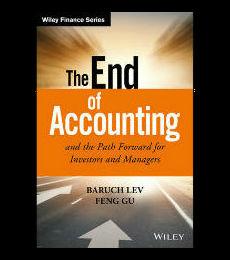 By Baruch Lev and Feng Gu
In
The End of Accounting and the Path Forward for Investors and Managers
, Professor
Baruch Lev
and co-author Feng Gu show how ubiquitous financial reports have become useless in capital market decisions and lay out an actionable alternative. Based on a comprehensive, large-sample empirical analysis,
The End of Accounting
tracks financial documents' continuous deterioration in relevance to investors' decisions. Beyond simply identifying the problem, the authors offer a solution—the Value Creation Report—and demonstrate its utility in key industries. New indicators focus on strategy and execution to identify and evaluate a company's true value-creating resources for a more up-to-date approach to critical investment decision-making.
While entire industries have come to rely on financial reports for vital information, these documents are flawed and insufficient when it comes to the way investors and lenders work in the current economic climate. This book demonstrates an alternative, offering a new framework for more informed decision-making. Throughout the book, readers will:
Discover a new, comprehensive system of economic indicators
Focus on strategic, value-creating resources in company valuation
Learn how traditional financial documents are quickly losing their utility
Find a path forward with actionable, up-to-date information
To learn more, visit Amazon.
__
Baruch Lev is the Philip Bardes Professor of Accounting and Finance.
---