Certifiable: How Businesses Operationalize Responsible Sourcing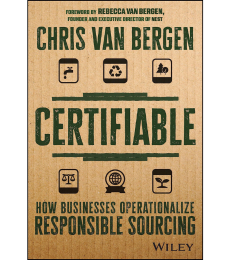 By Christopher van Bergen
In Certifiable: How Businesses Operationalize Responsible Sourcing, supply chain and corporate social responsibility expert and NYU Stern alumnus and Adjunct Professor Christopher van Bergen (MBA '18) delivers a practical and incisive discussion of how to create, implement, and audit transformative socially responsible sourcing practices that create a permanent competitive advantage for your firm. In the book, you'll find start-to-finish guidance on doing the hard work and creative problem solving required to put responsibly sourced products on store shelves.
Drawing on his own experience creating the groundbreaking Ethical Handcraft program at non-profit organization Nest, as well as many other real-world case studies, the author shows you exactly how to navigate the complex arena of global supply chains without falling victim to the common pitfalls presented by typical factory auditing systems. You'll also find:
Expansive discussions of the impact of corporate finance, Covid-19, shifting consumer attitudes and demographics, and information sharing policies on supply chain transparency
Interviews with recognized business leaders in a variety of industries that address the challenges you're likely to face and the solutions you need to overcome them
Examples of contemporary businesses that have made corporate social responsibility a central plank of their company's business model and the benefits they've realized as a result
An engaging and rigorously supported exploration of the real-world implementation of supply chain transparency and corporate social responsibility, Certifiable belongs on the bookshelves of managers, executives, directors, operations and sourcing professionals, and other business leaders seeking transformative change.
To learn more, visit Amazon.
---