SABOTAGE: How the Republican Party Crippled America's Economic Recovery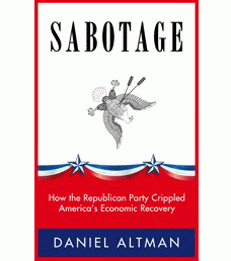 By Daniel Altman, Adjunct Associate Professor
In his new e-book, Professor
Daniel Altman
asserts that the Republican Party sabotaged America's recovery in the aftermath of its worst downturn in decades.
Altman traces the Republican Party's actions and rhetoric from the time they took control of the House of Representatives in the election of 2010. He demonstrates that at each opportunity, they thwarted policies that could have helped the economy to regain its strength.
Altman charges that all of the Republican actions served to advance one goal: the defeat of President Barack Obama in the election of 2012. Believing that Obama would face a tough fight for re-election if the unemployment rate stayed high, the Republicans did everything they could to make that fight tougher, he alleges, at a great cost to the American people. Altman also outlines predictions of dire effects that the Republican policies would have on the American economy if the party regains the White House in 2012.
To learn more, visit Amazon
---