Five Years After Rana Plaza: The Way Forward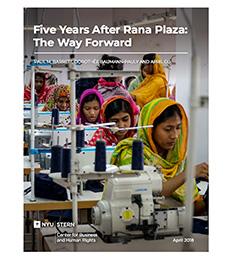 A new report from the NYU Stern Center for Business and Human Rights expands on its previous research explaining what has made many garment factories in Bangladesh dangerous and offering steps forward for making them safer
On April 24, 2013, a garment factory complex called Rana Plaza collapsed in Bangladesh, killing 1,134 workers, mostly young women, and injuring more than 2,500 others. The worst factory accident in the history of the garment industry, the tragedy captured international headlines and renewed concerns for worker safety in the global supply chain. What has changed during the five years since?
In a
new report
, the
NYU Stern Center for Business and Human Rights
finds that many garment factories are safer. Initiatives sponsored by Western apparel brands and retailers have made a difference in about 2,300 factories employing some two million workers.
But there is still much more to be done. While better financed factories with connections to Western brands are improving, thousands of others are left out because they can't afford remediation or aren't overseen by any compliance authority.
The report charts a way forward – a Bangladeshi-led international task force focused on "shared responsibility" for factory safety. With funding from the brands and retailers that profit from Bangladeshi apparel, Western countries who receive the bulk of these exports, international financial institutions, and the philanthropic community, the task force can start to make all factories safer.
The report concludes with the following recommendations:
To the Government of Bangladesh:​

Take a more active role in ensuring worker safety by helping to create and lead  a shared responsibility task force focused on including all garment factories
Building on previous efforts, conduct a thorough census of all existing garment factories to gauge the full scope of the industry

To Western Brands and Retailers:

Expand collaboration to tackle the systemic problems in the garment industry, including the subcontracting factories with which they have indirect relationships
Reform purchasing practices to ensure that factories have the resources and ability to address their core safety issues

To All Members of the Shared Responsibility Task Force:

​Develop a credible cost-accounting system to assess the expense of addressing unmet factory-safety needs
Develop an equitable model for determining the financial responsibility of each stakeholder group in meeting the overall funding requirement
Ensure transparency and integrity in the allocation of the funds
Read the full report
here
.
---