Digital Identity: Socioeconomic Transformation through IT in India
By Arun Sundararajan, Associate Professor of Information, Operations and Management Sciences; NEC Faculty Fellow; Doctoral Coordinator, IOMS-Information Systems
Among digital technology's boundless possibilities is its capacity to facilitate social connections between individuals and institutions on a scale hitherto unheard of. As the coming decades see the transformation engendered by information technologies expand beyond industry and deeper into society,
NYU Stern Professor Arun Sundararajan
, an authority on the social and economic impact of IT, is embarking on perhaps the most ambitious research to date in this area: Over the next several years, Sundararajan will be spearheading a series of studies about the country-wide socioeconomic effects of the Government of India's Unique ID (UID) program.
India's vast new project, called Aadhaar (Hindi for foundation), aims to capitalize on digital technology's capacity for scale and reach by giving each of its 1.2 billion citizens a digital ID, one that is securely connected to an open platform accessible to an array of businesses and public service providers. In the process it will create a national biometric database 10 times larger than the world's largest existing biometric database.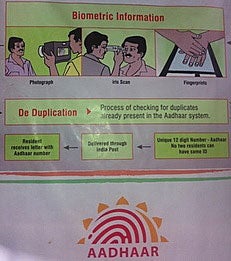 The project team, led by Sundararajan and Ravi Bapna of the University of Minnesota, and conducted in collaboration with the Indian School of Business and India's National Council for Applied Economic Research, will leverage enrolment data, access to government leadership in the project and a variety of corporate partnerships. "This is a game changer for the country," Sundararajan said, "a once-in-a-lifetime kind of project that will reshape India's institutional foundations. We're at that inflection point in the evolution of information technologies where they can truly start to solve fundamental societal problems, and our research will help show the world how."
The driving force behind Aadhaar is visionary billionaire Nandan Nilekani, co-founder of Indian outsourcing giant Infosys. If successful, hundreds of millions of Indians who are barely visible to the state will be able, for example, to receive government benefits and services, open bank accounts, access communications services and reliably own property – rights that most people in developed countries take for granted but that, for want of a legal identity, have been denied to a large fraction of India's masses.
Enrolments, up to 70 million in August, are expected to hit 1 million per day soon. Sundararajan's group has already commissioned a nationwide survey of 500,000 households that tracks household finance and demographics to enable a longitudinal socioeconomic impact analysis. The team will also model UID diffusion, facilitate randomized controlled trials for UID-enabled applications, study the evolution of the platform ecosystem and analyze the institutional models for business-government collaboration that lead to long-run success with large-scale socio-technical infrastructures.
---