Made in Ethiopia: Challenges in the Garment Industry's New Frontier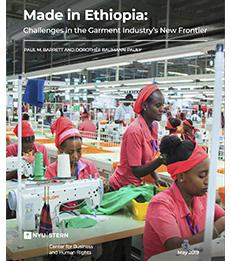 A new report from the NYU Stern Center for Business and Human Rights assesses the arrival of the global apparel industry in Ethiopia, identifies problems related to low wage levels, and makes recommendations for a way forward that benefits the industry, Ethiopia, and Ethiopian factory workers
In recent years, Ethiopia has launched a bold economic and social experiment by inviting the global garment industry to set up shop in the East African country. Drawn by newly built industrial parks and a range of financial incentives, manufacturers for some of the world's best-known brands employ tens of thousands of Ethiopian workers in a nascent sector the government predicts will one day have billions of dollars in sales.
A new report  from the
NYU Stern Center for Business and Human Rights
provides a close look at the flagship Hawassa Industrial Park, a vast and still only partly filled facility which currently employs 25,000 workers about 140 miles south of the capital of Addis Ababa.
Authored by the Center's Deputy Director
Paul Barrett
and Research Director
Dorothée Baumann-Pauly
, the report notes that, assuming Ethiopia's volatile politics do not chase away foreign investors, the country faces a choice when it comes to manufacturing clothes for Western consumers: Will it emulate China or countries like Bangladesh, Cambodia and Honduras? The answer to that question points to a broader one: Under what conditions do manufacturing jobs lead to improved worker welfare and sustained economic development?
With the country at a crossroads, the authors offer a series of recommendations, including:
For the Ethiopian government:
Address ethnic tension in Hawassa and elsewhere: Prime Minister Dr. Abiy Ahmed needs to apply his ample political skill to defusing potential violence that could threaten Hawassa and other industrial parks.
Craft and implement a long-term economic plan for strengthening the apparel industry: The elements include developing a domestic supply chain, shoring up industrial parks, and diversifying into other sectors.
Establish a minimum wage that ensures decent living conditions for garment workers: This must be done gradually so as not to drive away foreign manufacturers.
And more.
For the foreign manufacturers and Western brands:
Align business models with Ethiopian realities: Western brands should develop long-term supplier relationships which allow factories to improve efficiency over time.
Build worker dormitories that offer subsidized rent: The lack of decent housing is the most pressing form of worker deprivation in Hawassa.
Provide more extensive training on both hard and soft skills: Evidence of the need for more training comes in the form of low efficiency numbers and high attrition rates.
And more.
Read the full report on Center's
website
.
---