Making Workers Pay: Recruitment of the Migrant Labor Force in the Gulf Construction Industry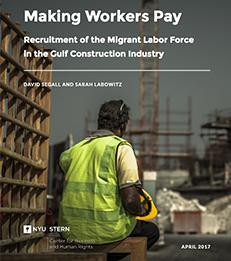 A new study from the NYU Stern Center for Business and Human Rights finds migrant workers bear the cost burden of their own recruitment for Gulf construction projects
Oil was discovered in the Arabian Gulf region in the early 20th century, followed by a long-term rise in the prices of oil and natural gas beginning in the late 1990s. Since then, the countries of what is now known as the Gulf Cooperation Council – Saudi Arabia, the United Arab Emirates, Qatar, Kuwait, Bahrain, and Oman – have experienced development at a furious pace.
The most visible sign of the region's growth is its booming construction landscape. Governments are spending their enormous wealth commissioning new campuses for international artistic and educational institutions and hosting mega-events like the 2020 World Expo in Dubai and the 2022 FIFA World Cup in Qatar.
A
new study
from the NYU Stern
Center for Business and Human Rights
finds that construction companies operating in the Arabian Gulf are able to recruit millions of low- wage migrant workers without incurring the costs of the recruitment process. Instead, in this highly irregular system, most workers themselves are paying for their own recruitment – and much more – before they depart their home countries. These recruitment "fees" may be equal to or more than a year's salary – which these low-wage laborers must work to pay back once they begin their construction jobs in the Gulf.
The two Gulf states most closely examined in the report – Qatar and the United Arab Emirates – have failed to provide adequate protections for this influx of outsiders, including by nurturing a culture of permissiveness around illegal visa-selling schemes originating in their countries. Other Gulf governments are doing much the same.
The report concludes that breaking this cycle of abuse will require:
A fundamental shift in how construction firms and their Gulf-based clients structure project bids so that they account and pay for all recruitment costs
Gulf governments to enforce their laws against the sale of visas
Migrant-sending countries to ban the payment of these fees and to "license, legalize, and regulate" complex networks of unregistered recruitment agents operating on their soil
A model of shared responsibility between construction and engineering firms, their clients and subcontractors, and governments in the Gulf and South Asia to develop a common plan of action in a transparent manner
Read the full report
here
.
---