Planes, Trains and Automobiles: Renewal of U.S. Transportation Infrastructure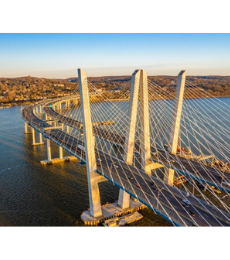 By Clive Lipshitz and Ingo Walter
Among President Biden's top policy priorities is his pledge to invest in America's infrastructure. In this, he is not very different from his predecessors. Besides the immediate employment and income gains that politicians like to focus on, well-conceived and well-executed infrastructure investments boost the growth of economic capacity, compounding year after year, potentially paying for themselves many times over.
During his campaign, President Biden put out a very
detailed infrastructure plan
. His objectives are broad, and include job creation, applying "buy American" mandates, prioritizing safety across all modes of transportation, and utilizing existing federal government finance programs. His plan seeks to pave the way to sustainable funding, a low carbon future in road and rail transportation, and resilience to climate change for critical infrastructure. The plan gets more detailed – long-distance rails need to be electrified, highways must have a large network of charging stations, every mid-sized city should have zero-emission transit, and there should be state-of-the-art high-speed rail systems for both passengers and freight.
President Biden's plan nods to the possibility of an enhanced role for the private sector, perhaps including public-private partnerships (P3s). There is today plenty of private capital, know-how, risk-taking and entrepreneurship available and ready to engage under the right conditions. In this article we provide a transportation system overview in its key dimensions, explain the major pressure-points that will need to be addressed, and outline ways in which the private sector can be productively engaged to make the Biden plan a success.
Judging by the record of earlier presidents who were effective leaders in infrastructure, President Biden needs to combine national vision with executive leadership to get things done. His first objective will be to get past the Covid-19 pandemic. Infrastructure should follow soon thereafter. His most important ally in this effort will be Transportation Secretary, Pete Buttigieg.
Click here to read the full paper, "
Planes, Trains and Automobiles: Renewal of U.S. Transportation Infrastructure
."
Ingo Walter is professor emeritus of finance at NYU Stern School of Business, Clive Lipshitz is managing partner of Tradewind Interstate Advisors.
---