Still Struggling: Migrant Construction Workers in Qatar During the Pandemic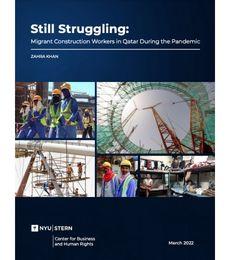 A new report from the NYU Stern Center for Business and Human Rights advocates that World Cup organizers, corporate sponsors, and national soccer teams need to put pressure on the Qatari government to enact and enforce more protective worker-welfare laws.
Millions of foreign construction workers in Qatar have been essential to the country's preparation for hosting the World Cup in November 2022. During the pandemic, the Qatari government provided adequate, free healthcare for migrant laborers, but it did not invest comparable energy or resources in addressing long-standing economic issues. These include arbitrary wage reductions and delays and the widespread practice of forcing workers to pay for their own recruitment and transportation.
A new report from the
NYU Stern Center for Business and Human Rights
, "
Still Struggling: Migrant Construction Workers in Qatar During the Pandemic
," argues that with worldwide attention focused on Qatar as host of the World Cup, this is an ideal moment to push for change.
Written by Zahra Khan, adjunct professor and former Center for Business and Human Rights program manager, the report notes goals the government, employers, and World Cup sponsors should aim to achieve, including:
For the Qatari Government:
Enforce existing worker standards covering those hired for FIFA World Cup projects. As a starting point, the government should require construction firms to compensate workers for all recruitment costs and the full amount of wages lost during the pandemic.
Broaden worker-protection rules to all categories of migrant workers, expand inspections of employers, and impose meaningful penalties against non-compliant firms. The first step to supporting workers across sectors would be to enact a clearly stated law mandating employer responsibility for recruitment costs. The law should require that government-affiliated agencies accept only those contractor bids that fully account for the cost of recruitment, wages, and decent accommodation.
Invest in digitizing the recruitment process and expand the role of government-funded visa centers in labor-sending countries. This process should also generate reliable records that the government could use to assure compliance with its laws and deter corruption.
Make bidding for government projects and contract implementation public. Greater transparency would give civil society organizations and workers themselves more of a basis for advocating for fair treatment by employers and the government.
For Construction Companies:
Cover all expenses related to the recruitment of current and future low-wage migrant workers and reimburse those who were charged fees in the past or denied wages during the pandemic. Employers need to treat the payment of recruitment fees as a routine cost of doing business, no different from the payment of wages.
Pay for vastly improved accommodations for migrant employees. This would be the humane approach in general, and, more specifically, it would decrease the impact of any future contagious disease outbreaks.
For the Federation Internationale de Football Association (FIFA), Corporate Sponsors of the World Cup, and National Football Teams:
In the months leading up to the World Cup in November, FIFA should make a concerted effort to persuade the Qatari government to require that construction firms pay all recruitment fees, as well as provide fair compensation, decent accommodations, and safe working conditions. For their part, the commercial sponsors of the World Cup also should adopt a common strategy for raising these issues collectively with the Qatari government. In a year when people across the globe will pay attention to Qatar, national teams that compete for the World Cup also can help generate greater public concern about these matters.
Read the full report on the Center's website
here
.
---