The Synergy Solution: How Companies Win the Mergers & Acquisitions Game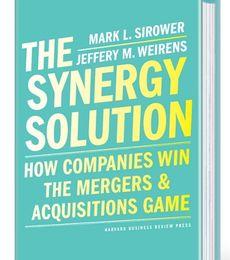 Despite today's record-breaking M&A deal craze, less than 50% of M&A deals ultimately deliver their promised value. Why? Because what's prioritized is getting the deal approved instead of getting the deal to work.  Once the papers are signed and the news is announced, the deal feels done—until investors see through it and send the stock tumbling—setting a negative tone for all stakeholders. If only there were a means for dealmakers to deliberately improve their odds for success. Now there is.
"
The Synergy Solution: How Companies Win the Mergers & Acquisitions Game
" is authored by Professor Mark Sirower, a leader in the ​​M&A and Restructuring practice, Deloitte, who has taught in NYU Stern's Executive MBA Program for 30 years, and co-author Jeff Weirens, leader, Global Financial Advisory, Deloitte. The book is a comprehensive up-to-date resource for doing M&A right—providing end-to-end solutions for every step from strategy to valuation, all the way through post-close execution.  
The upshot: M&A is a connected cascade of judgments and actions that must be managed phase by phase. If it isn't, the original vision for a deal may never materialize.  
The recommendations in "The Synergy Solution" are supported by an original study of over one thousand deals spanning 24 years (and worth over $5 trillion in deal value). Among the findings: cash deals outperform stock deals; high premiums often mean disappointing returns; and initial market reactions are great indicators of long-term success. More importantly, there are great rewards for acquirers who begin with a positive market reaction and deliver on their promises—returns of 60 percentage points higher than acquirers who start with a negative reaction and confirm those negative investor forecasts.  
Five key M&A tactics from the book apply these findings to teach readers how to:
Design an always-on M&A strategy that creates a continuous pipeline of priority deals
Test the investment thesis and discounted cash flow valuation before making an offer
Effectively communicate promises to win in the eyes of stakeholders
Prioritize the pre-close integration and post-close execution phases
Manage change and build a fully new, combined business that creates shareholder value
Whether you're considering M&A or in the throes of a deal, "The Synergy Solution" is an authoritative guide to potential pitfalls, strategies to analyze them, and tactics to successfully plan and execute.
To learn more, visit Amazon.
---