The Talent Equation: Big Data Lessons for Navigating the Skills Gap & Building Competitive Workforce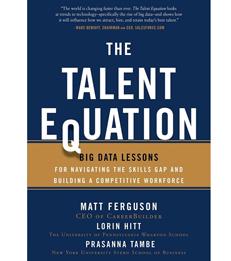 Companies have to ask: Do we have the right tools in place, the right data, and the right people to create the most rigorous human capital analytics strategy? --Prof. Prasanna Tambe
By Prasanna Tambe, Matt Ferguson and Lorin Hitt
In
The Talent Equation: Big Data Lessons for Navigating the Skills Gap and Building a Competitive Workforce
, Professor
Prasanna Tambe
and his co-authors, Matt Ferguson of CareerBuilder and Lorin Hitt at University of Pennsylvania, explore the potential for big data to transform human resources and investigate some of the most important issues affecting the labor market and workforce management today. They commissioned a landmark big data study of more than 2,700 employers and 33 million resumes to find the relationship between market performance, education attainment, and employee tenure. The findings are enlightening–and quite surprising.
The Talent Equation
explores:
The ROI of increased education levels and retention rates
The benefits of continuous recruitment and talent pipelines technology market, and how workforce analytics tools are changing talent acquisition
The importance of reducing longterm unemployment through training and reskilling
___
Prasanna Tambe is an Assistant Professor of Information, Operations and Management Sciences.
---