The Antitrust Revolution: Economics, Competition and Policy, 6th Ed.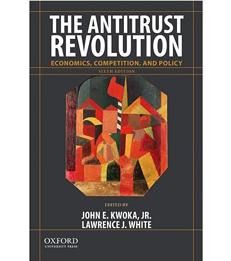 The sixth edition of
The Antitrust Revolution: Economics, Competition and Policy
, edited by Professor
Lawrence White
and John E. Kwoka, Jr., was published in July 2013. Since the first edition was published 25 years ago,
The Antitrust Revolution
has been read by students, instructors, economists and lawyers from around the world. This new edition has been fully updated to reflect important developments in antitrust economics, and it examines the role of economic analysis in recent antitrust case decisions and policy.
The new edition contains 20 case studies – 11 of which are new – written by prominent economists who participated in the proceedings of their respective cases. The case studies provide insight into how economists think about antitrust issues as well as the influences of economics in antitrust processes. The new cases illustrate merger policy, including a merger proposal that was abandoned in the face of agency opposition and a challenge to a consummated hospital merger. There are also a number of conduct-related cases, ranging from conspiracies, to dominant firms' alleged efforts to buy off competitors or deny them customers, to exclusive dealing, tying and network issues. The novelty of these issues and their importance are key features in this latest edition of
The Antitrust Revolution
.  
To learn more, visit Amazon
___
Lawrence White is the Robert Kavesh Professorship in Economics and the Deputy Chair of Economics.
---