Business Across Borders
NYU Stern Center for Business and Human Rights to Tackle Migrant Labor Rights in the Construction Industry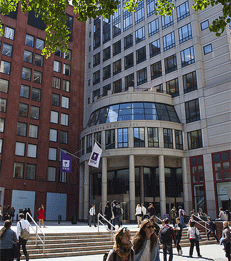 The NYU Stern
Center for Business and Human Rights
is beginning a new research project to promote human rights in the supply chain for construction labor that runs from South Asia to the Arabian Gulf. The project will examine business practices among recruitment agencies that make workers more vulnerable to exploitation and abuse.
"Millions of workers are migrating to the Gulf region seeking economic opportunity and jobs. But exploitation and indebtedness in the recruitment process make them vulnerable to further labor rights abuse," said
Sarah Labowitz
, co-director of the NYU Stern Center for Business and Human Rights. "Our objective is to shed light on business practices in recruiting and identify practical ways to improve them that enhance the experience of migration for workers and make the construction industry more sustainable."
The project starts from the premise that jobs in the construction industry provide important opportunities to migrant workers and help fuel economic growth in both home and host countries. The Center's goal is to identify options that enhance the dignity of work in the construction industry by reforming the underlying recruiting process to make those practices more respectful of workers' rights.
The Center will research relationships among recruitment companies based in South Asia and construction firms doing business in the Arabian Gulf to better understand the incentives and pressures that exist at different points in the chain that are contributing to violations of migrant workers' rights. The Center will engage with and convene participants in the construction and recruitment industries, including:
National-level recruiters in South Asia
Construction firms doing business in the Gulf
Western cultural and educational institutions operating in the Gulf
Home and host country governments
South Asian advocacy NGOs focused on migrant labor rights
The final phase will focus on mobilizing actors across the recruitment supply chain – companies, cultural and academic institutions, recruiting firms, governments, international organizations, and civil society groups – to embrace and implement standards for business aimed at ensuring greater protections of migrant workers' rights in recruitment.
"We believe that standards-based approaches that apply across groups of companies are the best way to address human rights challenges while leveling the playing field for business so that it remains competitive," said Labowitz. "The Center's goal is not to initiate new standards, but to encourage the principle stakeholders to rally around standards that are already on the table, and to identify effective approaches for implementing such standards at different levels of the supply chain."
The Center expects a report to be published complete with findings and recommendations in early 2016.