Business Across Borders
China: Risks in the Financial System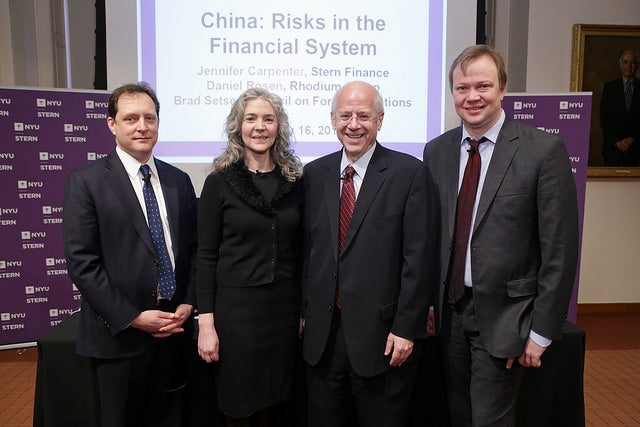 On February 16, Professor
Kim Schoenholtz
moderated a panel discussion entitled, "
China: Risks in the Financial System
." Opening the conversation, Professor
Jennifer Carpenter
presented key points from her recent research, co-authored with Professor
Robert Whitelaw
, outlining the rapid growth of corporate debt in China and the central role banks play in China's financial system, as well as mechanisms to improve the allocation of risks (such as the stock market).
Daniel Rosen, a founding partner of Rhodium Group, analyzed China's growth and investment prospects and discussed financial risks in various sectors. Brad Setser, a senior fellow at the Council on Foreign Relations, assessed risks in China by comparing and contrasting the current setting to vulnerabilities that commonly prevail in emerging markets ahead of financial disruptions. Following their presentations, the panelists responded to a wide range of audience questions.
The Stern
Center for Global Economy and Business
aims to promote faculty research, housing several research groups that explore the global aspects of modern economies and business. For more information about the panel (including a video of the session), please visit the
Center's website
.