Four Weeks of Cheese and Wine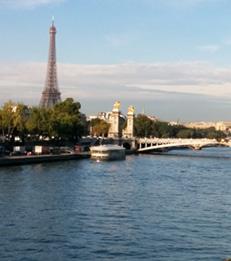 In the first month, I have had client interactions in a consulting role, and I have been assigned to a very exciting project that will take a business concept from inception to incorporation.
MBA student Ashok Chandra blogs about studying abroad at HEC-Paris.
I arrived in Paris to continue my business education at HEC in Jouy-en-Josas, France, on August 28, 2014. In this space, I will be sharing some of my educational and life experiences – plus reading and music recommendations – while studying in northern France.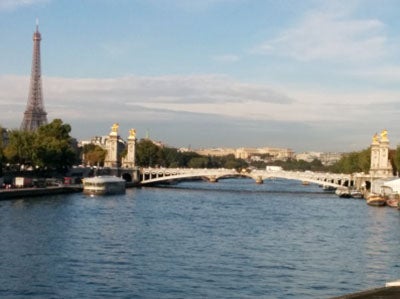 The decision to leave New York City to continue my education was not one that I took lightly. NYC is one of the most pleasant places in the world in the fall and winter. More important, studying abroad this fall semester would directly interfere with fantasy football season; I would be missing the CMJ music festival; and I would be leaving behind my favorite Szechuan restaurant, Han Dynasty. Despite these factors, I decided to go for it and haven't looked back.
Rewind again to August 27. At a cafe at JFK's international terminal, I furiously typed out my final paper for Stern's "Global Perspectives" course. For anyone trying to do business or finish a paper in JFK - I wouldn't recommend it. The Wi-Fi is terrible, and the food is overpriced.
That said, if you are ever leaving on an important journey and want to remember every second of it, listen to Sky Ferreira's "
24 Hours
."
HEC
The point of coming to France was to finish my business education and get some international experience. The professors at NYU are unrivaled with rock stars like Scott Galloway, Nouriel Roubini, Paul Romer and Ian Bremmer, but I was pleasantly surprised to see the high quality of professors teaching at HEC. I am taking a track that focuses on technology investing, venture capital and entrepreneurship. In the first month, I have had client interactions in a consulting role, and I have been assigned to a very exciting project that will take a business concept from inception to incorporation. More to come in this space, but if it takes off, I may be able to get a share of the company.
Also, the HEC campus is gorgeous. It is abutted by a large lake and a castle. Between classes I go running and I have crossed tennis courts, a rugby pitch, basketball courts and a lot of other beautiful scenery. Plus, my classes are truly international. In the first day, I met individuals from South Africa, India, Chile, Mexico, China and the far off land of New Jersey.
By the way, if you are ever walking through a forest to get to class, listen to Miniature Tigers' "
Oblivious
." Feel good music of the highest manner.
Mobile Phones
A few years ago, I attended a panel talk on technology at WNYC, which included Naveen Selvadurai, one of the Foursquare founders. One of the attendees asked him if, or when, people would be able to stop themselves from looking at their smartphones. Over the last year, I found myself getting more and more annoyed with my fellow New Yorkers and their adulation of content on mobile phones. When an elevator opened, eyes would be fixated on Candy Crush, BuzzFeed or some distraction that would take individuals out of the present. Everyone in New York City has been the victim of someone who climbs the stairs and then stops to check his or her phone mid-exit.
After a few days in France, on the other hand, I was pleasantly surprised to see that the French, although owners of smart phones, have the wherewithal to leave their phones in their purses or pockets for more than a few seconds. People in the subways are not engrossed in their games or texts, but are instead reading books on paper or on the Kindle.
Inspired and wanting to fully embrace the culture, I have decided to carve out some time to read good fiction while I'm here in France.
Through this blog, I hope to include several mini book reviews.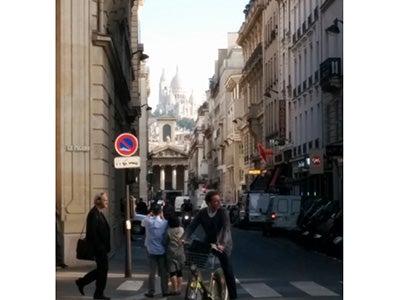 La section du blog où je vous écris à propos de livres
The Love Affairs of Nathaniel P.
by Adelle Waldman
This book came with a front and back covered in acclaim. I had high hopes for this novel about a book reviewer in his early 30s living in Manhattan. Although the book received accolades as a view into the New York City male mind, I found the characters to be two-dimensional and the writing to be pedestrian. There were two descriptive sentences in the book that made me stop and appreciate, but that was it.
I have a habit of leaving books where I finish them – whether it be a train, a bench or a restaurant – and I like to imagine that someone else will pick it up and read it.
Final Destination: I left this one on a bench by Notre Dame.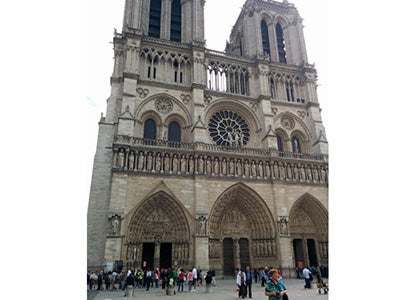 The Bone Clocks
by David Mitchell
This new book by the author of
Cloud Atlas
was short listed for the 2014 Man Booker Prize. The English language bookstore, W.H. Smith, in Paris had a section devoted to this prize. (Just for the record, I have not read
Cloud Atlas
or
Gravity's Rainbow
.) This book was a beast, clocking in at nearly 600 pages, but the writing was a palate cleanser after the previous one. The story follows a teenage runaway and various people she meets throughout her life. Each chapter jumps roughly a decade. The book takes on the premise that "A book can't be half-fantasy any more than a woman can be half-pregnant." I can see how some would be turned off by the fifth chapter, which, if I am not mistaken, is a parody of
The Da Vinci Code
, as well as the final chapter, which is an extrapolation of current affairs into a dystopian future. The writing was fantastic and the characters were extremely well-rounded.
Final Destination: I finished this book at the Bonne Nouvelle station and left it on a bench.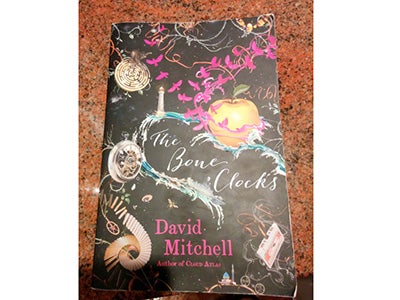 To Rise Again at a Decent Hour
by Joshua Ferris
This book was shortlisted for the Man Booker Prize and, more important, had a blurb from Stephen King calling it the "
Catch-22
of dentistry." The premise of the book is that a dentist, Paul O'Rourke, finds his identity has been appropriated online. Someone has made a website for his practice, has started an email, a Facebook page and a Twitter page in his name. The book continues and becomes a study of religion versus tradition. It was extremely well-written and I found the religious discussion to be thought-provoking.
Final Destination: A cafe near Republique during some sort of protest.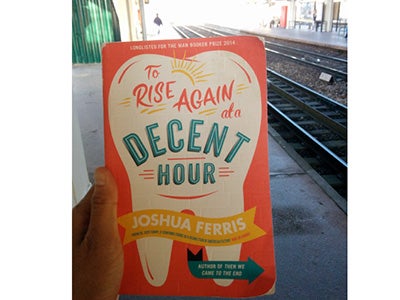 The Broom of the System
by David Foster Wallace
The final class I took at Stern was "Professional Responsibility" with Professor Christopher Michaelson. This was one of the best classes I have taken with a fantastic professor. We read a section of
The Pale King
for class and I wanted to scratch my DFW itch. I picked up DFW's first novel,
The Broom of the System
, and was amazed at how ahead of its time it was. The humor is extremely modern and absurd yet grounded in reality, and the descriptions and writing are impressive. I can't adequately describe the extensive plot here, but would urge anyone to pick up this book.
Final Destination: This Brooklyn themed burger place in the 3rd, M.O.B.
Happy reading! Bonne lecture!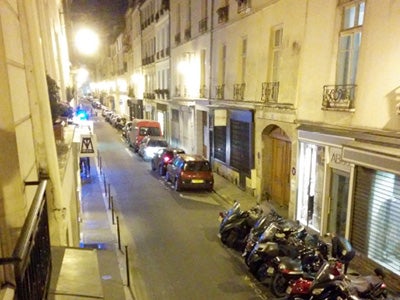 ---