Studying Abroad in Hong Kong at HKUST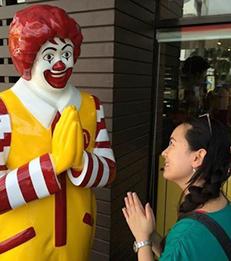 In the next few days, my classmates and I will all disperse into the four corners of world; ... what is certain is that we all have a shared experience during our time in a foreign land and a common goal of making an impact in the world using our business skills.
MBA student Jackie Lu blogs about her experience as an exchange student at Hong Kong University of Science & Technology.
December 20, 2013
In a few days, when I leave HKUST the same way I came, lugging my two 28-inch suitcases up the picturesque seaside campus; one added thing I take home is a sense of fulfillment. In thinking about my study abroad experience, I cannot recommend it more. The value of going abroad, especially at the MBA level, is that your network of business-oriented classmates and alumni grows substantially, your knowledge and appreciation of global business trends are lived out in front of your eyes, and if those weren't enough reasons to study abroad, I here present some other reasons to do so: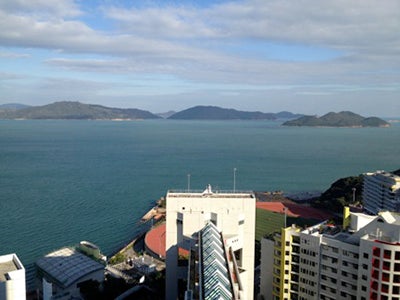 1. A new-found appreciation for take-for-granted fast food chains
Traveling brings about a lot of new experiences, but sometimes familiarity is comforting. While traveling for the first time to Thailand this November, I felt overwhelmed by what seemed like a lack of traffic laws and unrelenting humidity, so the moment I spotted a familiar fast food chain, I knew I could find some refuge in its air-conditioned building. Plus, it's fun to observe the localization of the brand such as Ronald McDonald posing in a gesture of welcome in Bangkok to the breakfast congee on the Thai menu.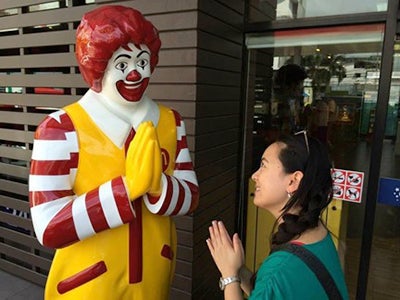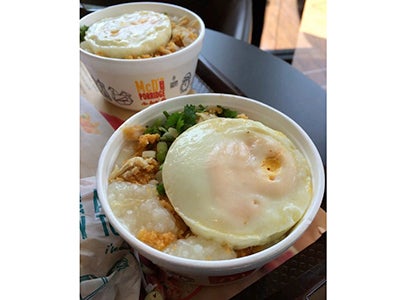 2. You can find almost every American thing abroad
You're in Asia and you're longing for home? You don't have to look very far for things American. First, across the border in Shenzhen, there is an exact replica of the most famous U.S. sites from the skyline of Manhattan to my hometown of Washington D.C. but at one-tenth the actual size! Missing the glitz and excitement of Las Vegas? There's a cure for that in Macau. Macau is only an hour's boat ride away, where the biggest names from the Vegas strip also have their counterparts on Macau's Cotai strip plus unbelievable international cuisine.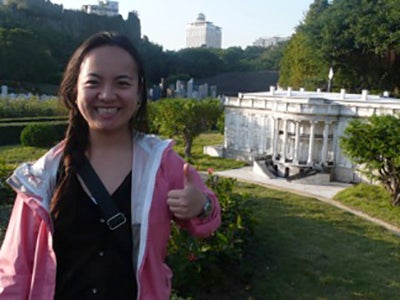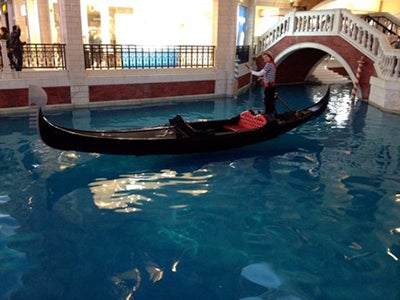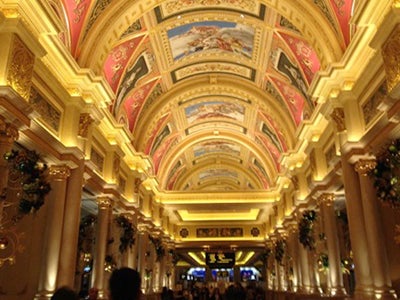 3. A global network of couches on which to crash in the future
In the next few days, my classmates and I will all disperse into the four corners of world; while no one knows exactly when our paths will cross again, but what is certain is that we all have a shared experience during our time in a foreign land and a common goal of making an impact in the world using our business skills. As I've said to many of my friends as we parted ways, my couch in New York is always open to them when they visit, and I've been offered reciprocal treatment in Dubai, Delhi, Shanghai, etc.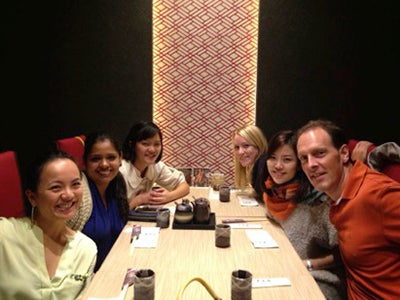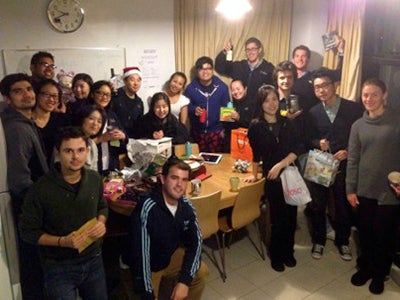 November 20, 2013
November in Hong Kong is a lot like New York in late September; the humidity has dissipated and the holiday tourist crowds have largely gone home. It is the perfect time to explore. Also, now is when I'm beginning to feel like a real Hong Kong resident, or at least qualify to stand in the resident lane at immigration at the airport. This month, I want to share a "week-in-the-life" of an NYU Stern student in Hong Kong.
Tuesday
It's the beginning of my academic week, and with the way electives credits work at HKUST, I take four courses per quarter. All my classes meet once a week for 3 hours on weekday nights or weekends. Since this is a weekday class, I have to make the trek to the off-campus site, which is centrally located at the historical HK Club to better accommodate part-timers. This, however, creates a bit of a journey from my campus housing, located an hour away. No worries, however, as it gives me a chance to see the city through my commute.
Wednesday
Again I have the same routine as the day before but today I leave a little early in order to meet up with friends for dinner before class at Kau Kee, a 50-year-old hole-in-the-wall restaurant with a Michelin star. It makes only two things on the menu: a clear broth noodle and a curry noodle, but both are equally out of this world.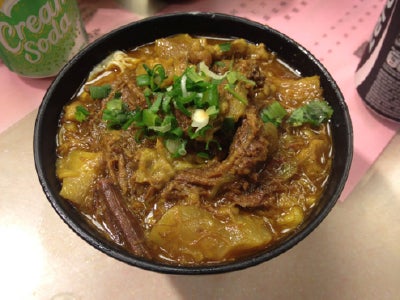 Thursday
No classes! Instead I use the time for group meetings, catching up on case readings and scheduling an informational with a company in the States; due to the 12-hour time difference, I stay up a little later to accommodate my interviewee's schedule.
Friday
It's an early morning rise as I visit Microsoft's Hong Kong office with HKUST's Tech Club. It's a morning of networking and touring. To top off the experience, the company lets us play in their game room – one that is full of every Connect game console ever sold! Then in the evening, I take full advantage of the urban culture scene and student discounts and score $10 (USD) discounted tickets for the HK ballet in their rendition of an ancient Chinese story, Dream of the Red Chamber. Afterwards, along with other exchange students, we explore the global wine and culinary offerings at the Hong Kong Wine and Dine festival.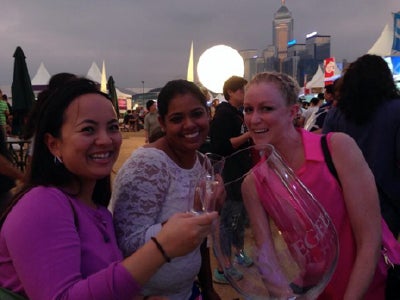 Saturday
It's the weekend, right? Think again! I have two weekend classes that meet back-to-back on Saturdays, inevitably taking up the entirety of my day, but not all hope is lost. This one Saturday happened to be the Indian festival of Diwali, the Festival of Lights. With a hugely diverse MBA student body at HKUST, the Asian Pacific club organizes a memorable Diwali event full of food, games and music. Here I take part in wearing the traditional Indian Bindi, the decorate jewelry on the forehead, and creating Rangoli, a finger painting done only with colored chalk and your hands.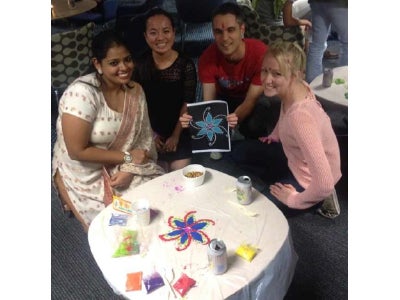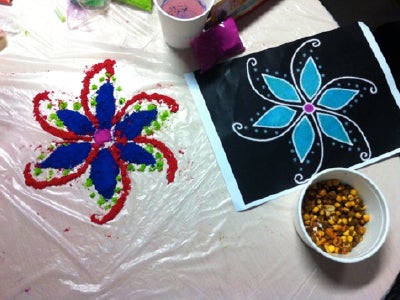 Sunday
With the nice weather, I head to Lamma Island, an undeveloped island an hour's ferry ride from downtown Hong Kong. This is a popular weekend getaway for locals as well as tourists. It is a day filled with hiking, relaxing on the beach, eating seafood caught straight from the sea and getting away from the hustle bustle of downtown Hong Kong.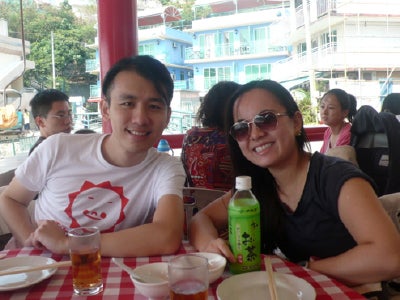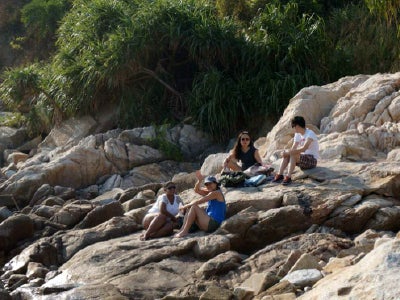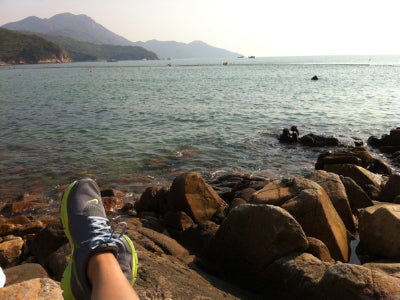 Monday
Finally, a day without any plans. I spend the day catching up with life and looking forward to the next week!

October 22, 2013
It's nearing the halfway point in my exchange and what have I got to show for it?
Surviving Typhoon Usagi, my first typhoon.
Finishing the first half of my courses.
Celebrating with the locals during Mid-Autumn festival.
And last but not least: racking up some mileage traveling around Asia!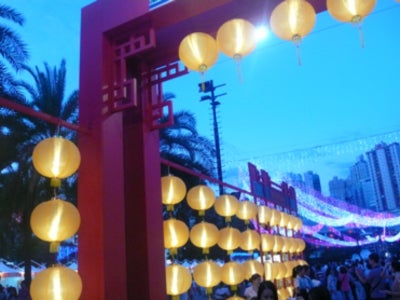 Mid-Autumn Festival Celebrations in Victoria Park
Hong Kong's location puts it within a short flight from Beijing to Jakarta and everywhere in between. Luckily, with its reputation as a business hub and major tourism destination, there are plenty of affordable and accessible flights to all over Asia.
My favorite trip so far was to Cathay City, the headquarter of Cathay Pacific, Hong Kong's flagship international carrier. As a frequent business traveler during my pre-MBA days, I had developed an interest in the airline industry and the chance to see the interworking of one was too good to pass up. The MBA program at HKUST helped organize a day trip that included learning about Cathay logistics as well as their passenger business side, where I got to test out their prototype first class seats.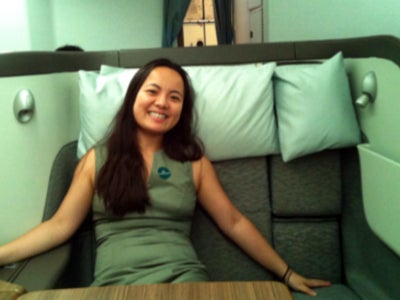 Cathay Pacific HQ tour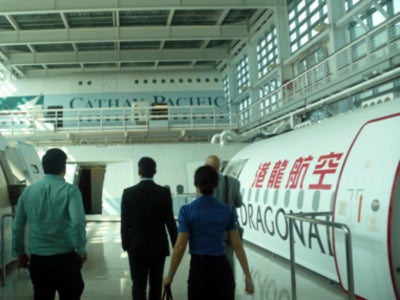 Touring training simulators
On another trip, I took advantage of a week of no class and visited my family in Nanjing, China, a city two hours west of Shanghai with lots of ancient charm. While there, I took in some sights and sounds near the Confucius Temple, an area bustling with shopping, entertainment, religion and education since 1000 A.D. My photo-op was taken outside the remnants of an imperial examination facility, a place used to test and find the best candidates to serve the emperor in various roles. I snuck a peak at their exam questions. It's nothing like the GMAT.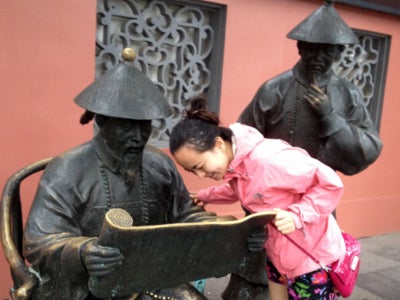 Nanjing's Confucius Temple
More recently, I made a weekend trip to Singapore, a city that rivals Hong Kong in its modernity. The highlight of my stay was going for a swim 55 stories high at the Marina Bay Sands with the best view of the city. Down back at sea level, I tested my palate at an outdoor food stall, or hawker centre as they're known in Singapore. How did I pick which food stall to eat at? They all looked good, but only a few smartly knew how to sell their food to this New Yorker -- they put up a photo of chef and New Yorker Anthony Bourdain on their shop window as a seal of approval. Talk about smart marketing!
That's all the excitement for now. Until next month!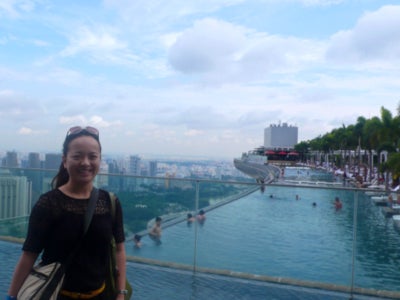 Marina Bay Sands infinity pool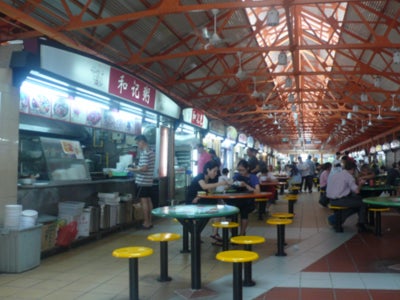 Maxwell Road Hawker Centre
September 3, 2013
I'm Jackie Lu, a full-time MBA student, and I'm beginning my second year at Stern by ticking off an item on my bucket list: living and studying in Hong Kong! A year ago in the admissions application I wrote about my strong desire to take advantage of Stern's extensive study abroad options. Well, here I am today, making it happen by spending the next four months at Hong Kong University of Science & Technology (HKUST). I chose the school for its world-class reputation and chose the city given its appeal as a global business hub.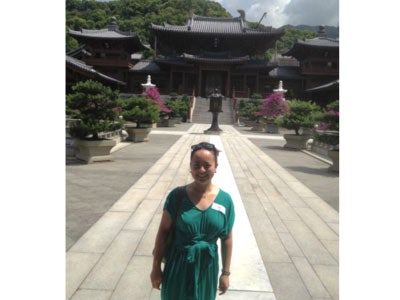 Jackie, in front of a traditional Chinese temple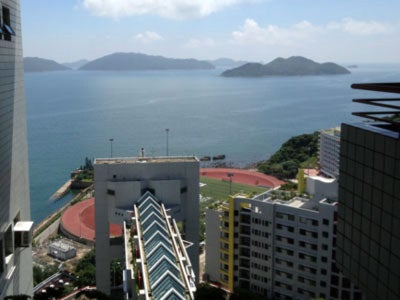 View of the sea at HKUST's campus
Just a few days after my summer internship ended, I hopped on a plane for the Far East. While it was daunting being 8,143 miles away from home, that fear abated upon meeting the other 40 exchange students from business schools across the world who shared the same enthusiasm for this city as me. While I heard about the beauty of HKUST's campus, it was unbelievable to see it in person. I was used to NYU's location in the heart of bustling downtown NYC, so it was a complete 180-degree change coming to HKUST, a quiet campus by the ocean. I chose to live on campus since finding temporary housing here can be a minefield; this turned out to be a great decision as it allowed me to meet many of the local full-time students since many also live on campus.
We commenced the exchange program with an orientation where I immediately felt nostalgia for 44 W 4th St. when I noticed that my nametag displayed my home school of NYU. Since then, I've been busy exploring and occasionally getting lost in the city with my classmates. Thank goodness for smart phones! Some of the places I've been with these new friends include the Peak, one of the highest points in Hong Kong; a stroll down Mong Kok, a hotspot for locals; a visit to a Buddhist temple, and then drinks in the Tsim Sha Tsui district, where we caught a spectacular view of the lit up skyline at night.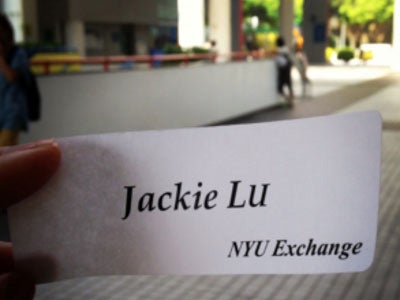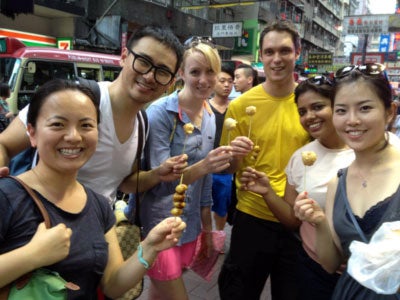 Street food in Mong Kok
It's been only two weeks since I landed in Hong Kong, and at this pace, I've high hopes of where my adventures will lead me in the next four months, which is ideally all over East Asia. As for now, I'm off to another important thing that I came here do: go to class. Until next time!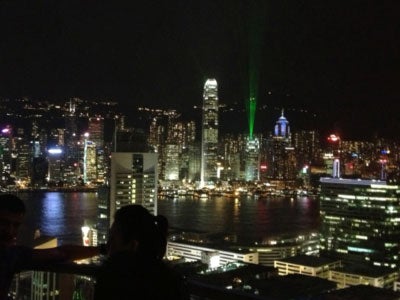 View of the nightly lights show from a restaurant on the 18th floor in Tsim Sha Tsui
---