A Crash Course in Adventure: Studying Abroad at HKUST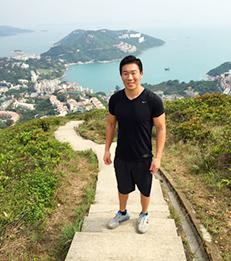 Taking quick trips to different cities and countries is something I will miss about my time studying abroad in Hong Kong.
MBA student Jay Roberts blogs about studying abroad at the Hong Kong University of Science and Technology.
April 23, 2015
In early February, classes began at HKUST with a group lunch for all of the exchange students at the famous Jumbo Floating Restaurant in Aberdeen. I met a lot of other students studying abroad from LBS, Kellogg, Wharton, Columbia, Booth and Ross, among others.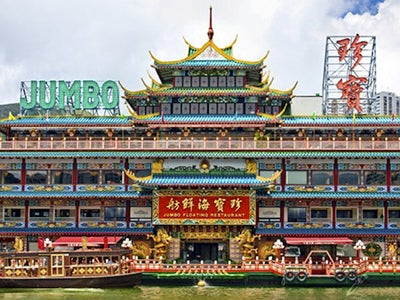 HKUST hosted a tasty traditional Chinese lunch for us comprised of dim sum, fresh fish, noodles and tea. The outing was a nice way to get to know the other exchange students and to start building friendships among the group.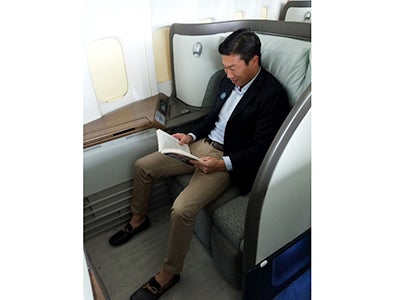 HKUST has a strong relationship with Cathay Pacific as a number of its graduates go on to work at the global passenger and cargo airline. The airline hosted about 40 students at Cathay City, its global headquarters, for a tour of its training facilities, cargo terminals and office complex. There, we learned about Cathay's cargo logistics operations, pilot and flight attendant training programs and history as a portfolio company of the Swire Group.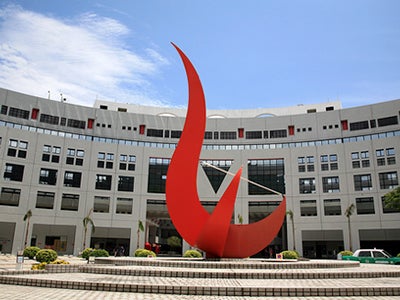 I really enjoyed the opportunity to take classes with full-time HKUST students, many of whom are native to mainland China or Hong Kong and can provide valuable insight into business practices and customs in those regions.
Hong Kong is centrally located within Asia, so it's easy to hop on a plane and explore a new city or country. I headed to Bali for Chinese New Year to get my PADI open water scuba certification. There, I had the opportunity to explore the USAT Liberty Shipwreck in Tulamben, Bali – an amazing experience! The water was crystal clear and packed with fluorescent coral and fish.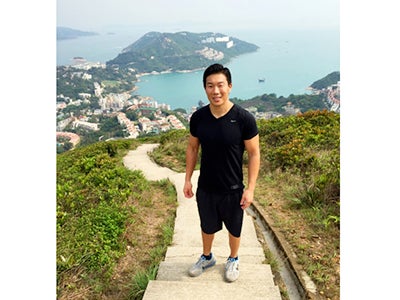 Hong Kong is known as a global gateway city for business in Asia and is home to the most skyscrapers in the world. But what many people don't know is that Hong Kong has numerous hiking trails spread across Kowloon, Hong Kong Island and the New Territories. Hiking was a nice way to exercise with friends and to see Hong Kong's beautiful topography.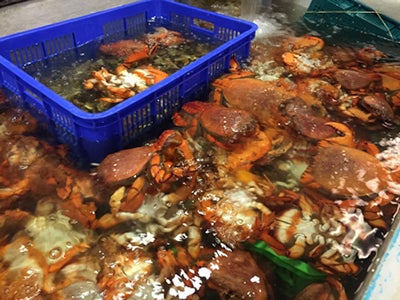 After finals at HKUST, I decided to head to Taipei to try out the amazing food I had heard so much about. The Addiction Aquatic Development was highly recommended by several friends, so I decided to take a taxi from my AirBnB to check it out. The food definitely surpassed my expectations. The A.A.D. is a local fish market and eating establishment where you pick from numerous seafood options, which are then cooked for you on the spot. Taking quick trips to different cities and countries is something I will miss about my time studying abroad in Hong Kong. Now it's time to pack up and head back to Stern to see friends and graduate!


January 1, 2015
It's January, and I've just arrived in Bangkok, Thailand for the start of a five-country tour of South East Asia before the start of my semester at Hong Kong University of Science and Technology (HKUST). Eager to discover the culturally rich and historic sites of Bangkok, my Stern friends and I started our day by exploring the Grand Palace, which historically has served as the home of the Kings of Siam (later Thailand).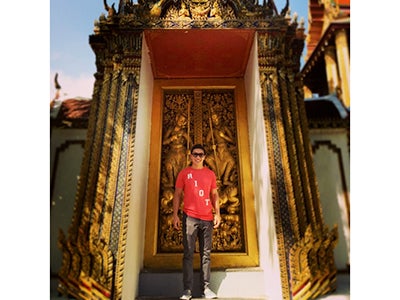 We explored temples in Bangkok, dined on flavorful Thai cuisine and attended a traditional Muy Thai boxing match. After the bustle of the city, it was time to soak up some sun on one of the most beautiful and picturesque islands in Thailand – Koh Phi Phi. The island is known for its unique geography, and it hosts a range of outdoor activities. We hiked the steep peak and took in the amazing scenery from the top. What a view!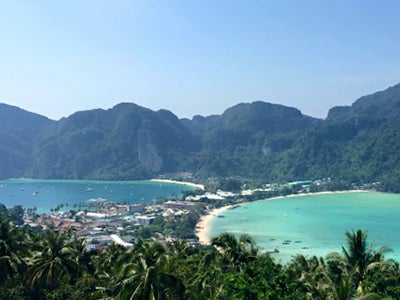 While in Koh Phi Phi, we kayaked to a remote beach to feed fruit to monkeys, snorkeled in the crystal blue waters of the Andaman Sea and made new friends along the way.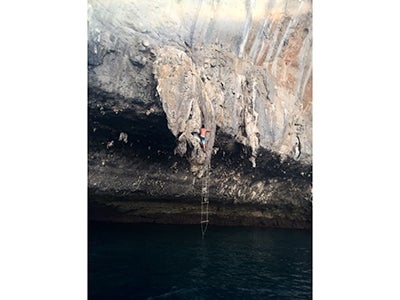 Chartering a traditional Thai long boat to a remote cliff in the middle of the Andaman Sea at sunset to conquer "deep water soloing" for the first time was one of the most exhilarating and exciting activities of the trip. With just our rock climbing shoes and a penchant for adventure, we set out to scale the side of a cliff without equipment while hanging over the deep ocean. We supported one another as each person successfully scaled the jagged face of the cliff and then jumped into the refreshing water some 60 feet below.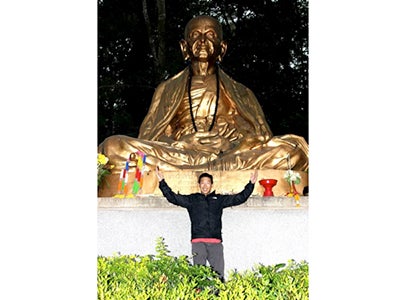 Rounding out Thailand, Chiang Mai was the last stop on our five-city tour of this beautiful country. Still hungry for adventure, we rode motor scooters up 16 kilometers of winding mountain roads from the center of town to tour the Doi Suthep temple. If you have ever visited Thailand, you know that maneuvering scooters through tightly packed roads and highways is a way of life. Though we were hesitant at times, successfully navigating and moving symbiotically with the flow of traffic was a liberating experience. Touring the golden statues and shrines and soaking up the cultural significance of the beautiful temple gave me a deep appreciation for Thai culture.
Eleven days into the trip, we were on to Luang Prabang, Laos, the second country on our tour. We hiked the Kuang Si Waterfalls, bravely ate street food, golfed on the Mekong River and crossed a bamboo bridge. The friendships created from coming to Stern are ones that I'll have for the rest of my life.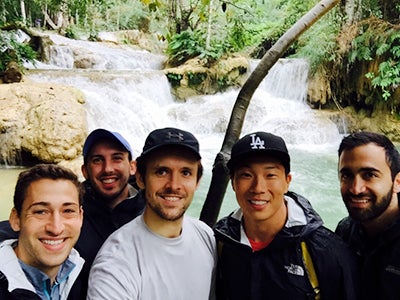 From Laos, we flew east to Hanoi to get a taste of the Northern Vietnamese cuisine and boat through the famous Ha Long Bay. Both the food and the sites of the world-renowned bay lived up to expectations. In Hanoi, we ate freshly made spring rolls, traditional Banh Mi sandwiches and lemongrass-flavored beef. In Ha Long Bay, we boated through the million-year-old limestone karsts and islets and swam in the crystal green water of the bay.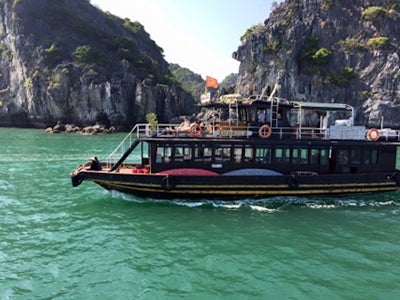 From Hanoi, we headed south to Ho Chi Minh City, where we toured the Vietnam War Remnants Museum and crawled through the Cu Chi Tunnels, which were used during the Vietnam War.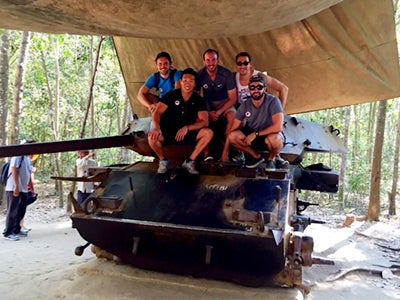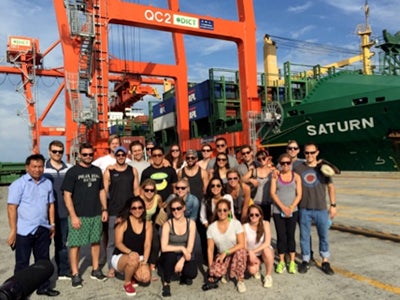 Our good friend and classmate, Isabel Lagdameo, played host to 25 Sternies in her family's home town of Davao in The Philippines. The Davao International Container Terminal (DICT) is the most modern container port terminal in Mindanao and is equipped with state of the art operating systems. Strategically located near major agricultural plantations in Davao, it's positioned to become an agro-industrial gateway to global development. Coming to Stern gives you the opportunity to connect with so many talented and successful people from around the world. Leaving The Philippines and the welcoming hospitality of Isabel and her family was extremely hard, but now it's time to head north to Hong Kong to begin my study abroad experience at HKUST!
---