A Pioneer Risk Professional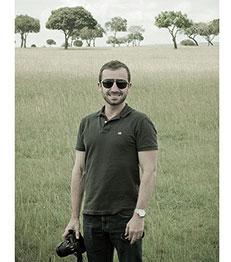 The opportunities are immense and they come with immense risks, making the MSRM degree worth every penny.
In 2008, Konstantin Makarov became, for the second time in his life, a pioneer of sorts. He left a secure job at Morgan Stanley in New York to found StratLink-Africa, Ltd., a financial advisory firm based in Nairobi, Kenya, with the mission of originating financing transactions in emerging and frontier markets, with a focus on Sub Saharan Africa (SSA) for investment banks, private equity firms and family offices.
Konstantin is an old hand at starting a new life. His family emigrated to New York from Belarus in the early 1990s, when he was in middle school. "Like children of most immigrants," he recalls, "I started working as soon as possible to have spending money. My high school jobs varied from working at a fish store, telemarketing, the production department of a newspaper, and even at the Gap."
After graduating early from an experimental inner-city high school, Konstantin majored in marketing at the University of Massachusetts, Amherst. He went right to work on Wall Street after college, first for Lebenthal & Co. and then for Morgan Stanley's wealth management division. Finance turned out to be the right niche, he says: "I understood that some of my natural skills were being put to good use and I never looked back."
But adventure beckoned. Nurturing the germ of an idea, he was able to secure a first client for his own business and left Morgan Stanley to found StratLink, which now employs more than a dozen employees over multiple business units that span the stages of new investment in the vibrant emerging markets of sub-Saharan Africa.
As he built his business, Konstantin saw a need to beef up his skills and sought out the NYU Stern
Master of Science in Risk Management
program. He explains: "The foundation for valuing education resonates with many immigrants from East Europe, and I strongly believe in continuing to learn and surround myself with other curious people. The MSRM degree was the perfect fit for my need to ensure my knowledge was up to date while continuing with my studies."
Once Konstantin discovered the NYU Stern MSRM program, he didn't consider going elsewhere. "Stern's program was and likely still is one of a kind," he says. "The combination of theoretical studies with the practical experience of participants creates a unique environment which pushed all the professionals in my cohort to question the way they did business. The biggest strength was the diversity of industries represented by the cohort combined with some amazing professors and lecturers. For me a lot of the learning took place during group sessions where problems were being solved using a variety of methods. The course not only led to increased self-awareness but created a few long-lasting friendships which are alive today."
Particularly useful, Konstantin adds, was the final capstone project that is required of MSRM degree candidates. "I used the project as an opportunity to test some risk theories as they relate to the frontier/emerging markets. Luckily, there were a few others interested in the frontier space and we used concepts covered during the course to run through a theory. My firm later adopted some of the finding and expanded the strategy."
Konstantin and his family are settling in well to their new surroundings in Nairobi. For an extra measure of excitement, Konstantin has taken up wind-surfing along the Kenyan coast, although to hear him tell it, doing business in Africa requires every ounce of his pioneer's reserve of optimism and appetite for adventure. "Every day is filled with a myriad of challenges ranging from Internet connection and electricity to drastically different HR practices. But it's been one of the most rewarding professional experiences of my career. The opportunities are immense and they come with immense risks, making the MSRM degree worth every penny."
---