A Model Global Citizen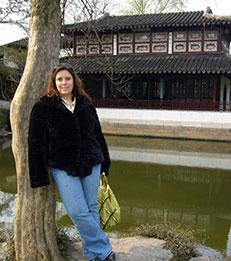 The coursework I had at Stern exposed me to several issues that arise when you're working and living in China.
After earning a bachelor's degree in computer science from Haverford College, Dorrit Lowsen (MBA '08) headed west to start a career in Northern California's Silicon Valley. Landing an internal consulting position at the hardware manufacturer Seagate, she cut her teeth in the industry managing several large-scale IT projects. Fast-forward seven years, Lowsen wanted to take the next step in her career and expand her knowledge base outside of the IT sector. She moved to the east coast and accepted a spot in NYU Stern's
full-time MBA program
, where she was able to customize her studies to include consulting, social enterprise and the nonprofit sector.
Then life took a somewhat unexpected turn for Lowsen – she fell in love and married an active duty soldier in the US Army. Soon after graduation, Lowsen moved to Beijing where her husband was stationed. "At that point, I had only been to China once before and it was on a 'Doing Business In…' course at Stern." That class and others at Stern proved invaluable as Lowsen made the move halfway around the world and accepted a position in an Asia-based IT consulting business that needed help navigating the financial crisis. "The coursework I had at Stern exposed me to several issues that arise when you're working and living in China," she explains. "In particular, my class on 'Managing Organizations,' with its multinational focus, was hugely helpful." Having to work within the constraints of China's foreign legal system was an eye-opening experience, admits Lowsen. "I was in a position to make decisions that would significantly impact the lives of our employees – a responsibility that I took very seriously. And because of that, I became a better and more empathetic leader."
After just one year in China, Lowsen moved back to the US so her husband could attend graduate school in Boston. Meanwhile, Lowsen took on freelance projects and began to the lay the groundwork for her next career move. "Armed with the knowledge I gained at Stern, along with the MBA credential, I made my first leap into the social enterprise space," she explains. Before long, Lowsen found herself in Washington DC, and working for a company whose work in the social enterprise space she admired – Agora Partnerships. "At Agora, we apply business methodologies and best practices to support social enterprises in Latin America, improving access to human, social and financial capital for entrepreneurs across the region." In her current role as Chief Strategy Officer, Lowsen identifies new grant opportunities, reviews applicant reports and marketing materials, liaises with potential funders and advises on IT-based issues.
"One of the huge benefits of my current position at Agora is being able to work remotely," she says. "As a military wife, I often need to take advantage of that flexibility." In fact, Lowsen is back in China and continues to head the company's strategic planning and fundraising efforts. Now based in Beijing, Lowsen keeps somewhat odd hours, but manages to keep up with colleagues from around the world. "I start early, around 8am, to connect with colleagues in Nicaragua," she explains. Taking advantage of the time zone differences, she takes a break in the middle of the day to take local Chinese lessons. Back at it again in the afternoon, Lowsen makes calls to colleagues based in Germany and ends the day with her US-based team. "It's not the most conventional schedule, but it works for me."
So what's next for Lowsen? "It's hard to predict what's next. We've given up a lot of control to the Army on where we go and when." That said, Lowsen sees a move back to Agora's headquarters in DC in the next few years: "Regardless of where my husband and I move next, I just love this organization and I'm excited to continue our work, which has a real impact on the lives of those in Latin America."
Through Stern's
Loan Assistance Program
(LAP), which seeks to lessen the financial burden of repaying business school loans among recent graduates who pursue career paths in social enterprise, Lowsen is also beginning to pay down her graduate school loans. "I'm incredibly thankful to Stern for recognizing the importance of nonprofit work and for supporting alumnae like me who sometimes forgo larger salaries in more traditional industries to do other meaningful work," she explains. "Because of LAP, my decision to switch career tracks into the social enterprise sector went from a tough choice to a no-brainer."
Committed to giving back to the Stern community, Lowsen works closely with student clubs including Stern's
Social Enterprise Association
and
Jewish Students Association
(JSA). "I'm currently mentoring a JSA student who turned out to be someone fresh out of the military – a happy coincidence, since I know firsthand about military life." Keeping tabs on the latest NYU news, Lowsen is also excited about the University's new Shanghai campus and looks forward to staying engaged with her fellow Stern alumni in the region.
---