Tea Time and Tubes: From NYC to LBS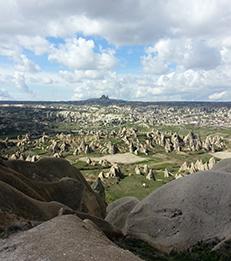 Before leaving London, I had to visit LBS one last time and take a selfie for the road! It's been an amazing semester, and I'm so glad to have gone abroad.
MBA student Melissa Yee blogs about studying abroad at London Business School.
April 9, 2015
In my final month in London, I quickly wrapped up my impact consulting project and final class and tried to make the most out of my remaining time abroad. While in London, I went to Shoreditch with my classmates and explored the trendy neighborhood (described to me as "the lower east side of London"). We got great tickets to see Book of Mormon in Piccadilly Circus, went to the historic Borough Market and had some delicious duck confit, Turkish coffee and green juice.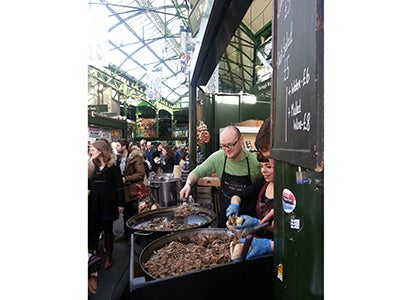 The last item on my London list was a visit to WB's Harry Potter Studios, where the films were made. Fellow Sternie Puli Cheng joined me for a day in Leavesden and even indulged me and rode sidecar in Hagrid's bike.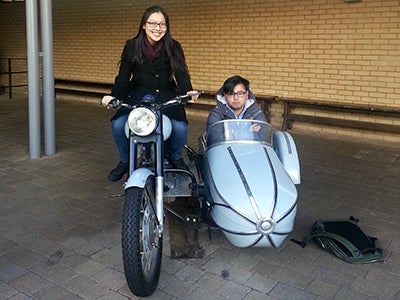 After the final day of classes, my husband, Hunter, joined me for a celebratory trip to Turkey. After meeting up at the Istanbul airport, we took a cab to our family-owned hotel where they gifted me a beautiful yellow pashmina for visiting the mosques. Our hotel was built right next to the old city wall, so our balcony door opened onto the ground floor, where there was a nook with a lamp and cushions for friends and family.  At night, we went for dinner at the nearby Arasta Bazaar in an outdoor tent while watching traditional Turkish dancing.  
On our second day, we headed to the Blue Mosque and the Hagia Sophia, a massive structure that graces several "wonders of the world" lists and served as a Greek Orthodox basilica, a Roman Catholic church and a mosque before being secularized and converted into a museum. In the afternoon, we went to Çemberlitaş Hamami, one of the Turkish bath houses, for full-body scrubs and massages. We returned to our hotel after the relaxing experience and had dinner at a nearby restaurant.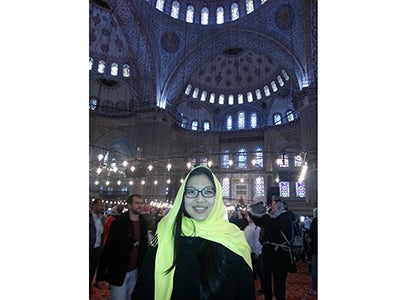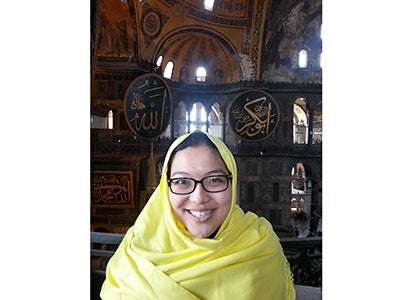 For our final day in Istanbul, we started our day by booking day trips to Kapadokya and Troy (after the requisite Turkish tea and talk, of course) before heading out to the Spice Market and Grand Bazaar, where we took in the sights and haggled with several shopkeepers for beautiful scarves and Turkish pottery pieces. After the bazaar, we wandered into a local neighborhood and browsed their supermarket. To my delight, there were several hazelnut spreads that would give Nutella a run for its money, as well as drinks and snacks with interesting flavors. Exhausted from our bargaining and walk around town, we crossed the water and went to Leb-i Derya, a restaurant that is down a steep side street. The food – a fusion of Turkish cuisine with various other cultures – was amazing, and the view was even better.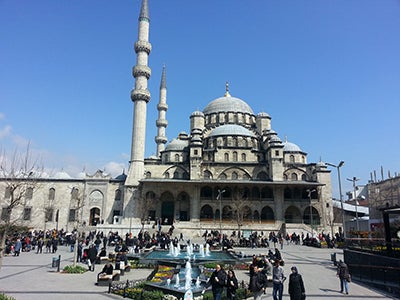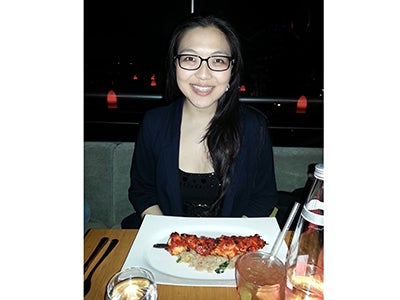 The next morning, we woke up at 4:30 am for a flight to Kapadokya, where we had a chance to do a 5K hike through the Red Valley, visited neolithic and paleolithic stone villages, and explored the second largest underground city in the area. In the afternoon, we learned about silk and Turkish carpet-making and had a brief group carpet-shopping session before flying back to Istanbul for the night. On our final day in Turkey, we took a day trip to Troy, where we visited the archaeological site and ruins to learn about the history of the area.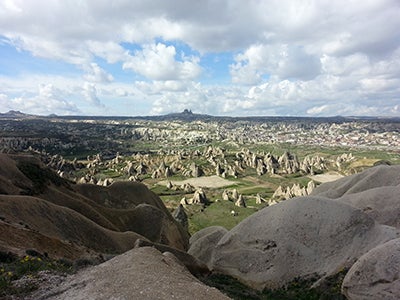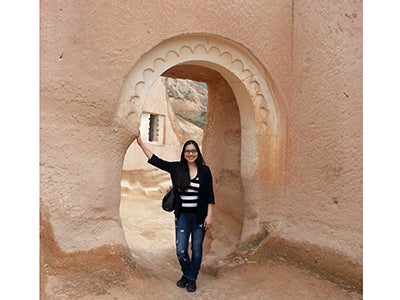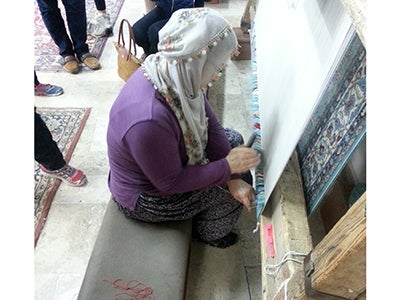 After getting back to London, I had a couple of days to pack and head back to the States. Realizing I had never gone to France (and partly procrastinating), I booked a day trip to Paris for the next day (for under 99 pounds!) and set my alarm. The bus dropped me off in front of the Arc de Triumph, and I walked down Champs-Élysées. Along the way, I got a crepe with bananas and nutella and made a detour across La Seine to see the Hôtel des Invalides and the Eiffel Tower. After a break for wine and cheese, I walked along the water to the Louvre, stopping by the love locks bridge (also known as Pont de l'Archevêché). The grounds of the museum and former palace alone were impressive and beautiful, as large as it was ornate. Because I didn't have much time before my flight back to London, I walked around the grounds and first floor of the museum before getting a baguette sandwich and macaron for the trip home.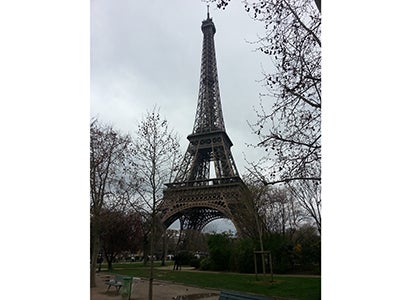 Before leaving London, I had to visit LBS one last time and take a selfie for the road! It's been an amazing semester, and I'm so glad to have gone abroad. I would recommend the experience to anyone who wants to expand their network beyond Stern and have opportunities to travel!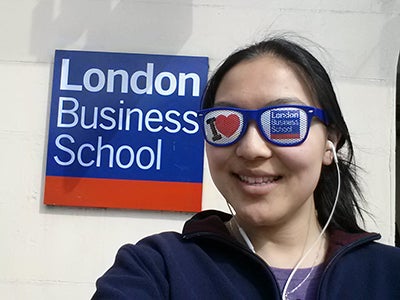 March 11, 2015
I completed my first course, Careers in Leadership with Professor Fernandez-Mateo, who delivered amazing - and useful - lectures. I was initially tentative about taking the class, but it was an eye-opening combination of external speakers, assessment tools, behavioral/psychology research and case studies with perspectives on managing your career like a personal enterprise.
My Impact Consulting Club team has been making strides on our project for our client, a fair trade coffee start-up. Throughout the month, we've had opportunities to meet with our mentors at Bain on a weekly basis to refine our hypothesis, research and final recommendations.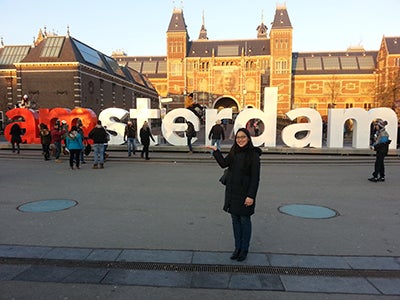 I took a trip over to Amsterdam and Brussels with some fellow exchangers from MIT and Kellogg, where we had a chance to visit the Rijksmuseum, tulip market, street fairs and cafe culture.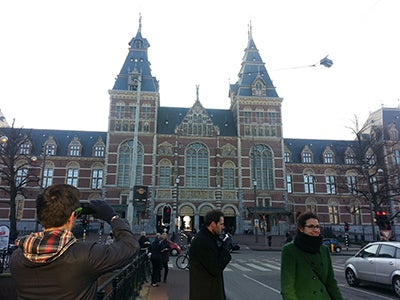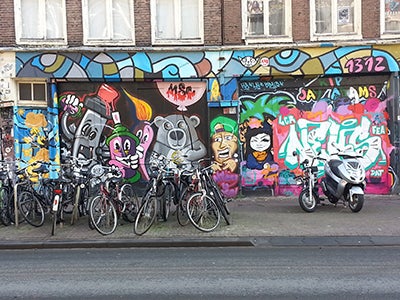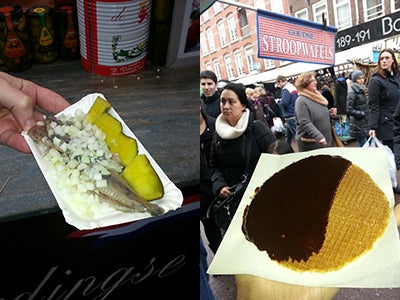 We walked around the city, enjoying its street art (welcomed graffiti) and trying the local food - herring, stroopwafels, and poffertjes. Once I bought a more sensible pair of shoes (after rolling my ankle) and taking a nap to recharge, I had a great time trying an "American" restaurant and exploring the nightlife with my travelmates in the De Wallen neighborhood.
We made our 7 a.m. train the next morning to Brussels and spent a couple of hours in the city before flying back to London. On a small street, we stopped for Belgian waffles, a welcome breakfast before hitting up Grand Place to visit the Town Hall and other sites. I bought chocolates for family and friends from each of the shops before our exhausted gang headed to the airport. As we walked, we saw street art in the city known for its comics.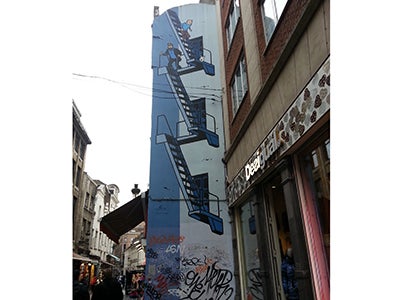 Instead of going on spring break at LBS, I completed my second course: Corporate Strategy. LBS has a "block week" system, where you can take ten lectures in a week and complete a single course. That means for the rest of the semester, I'll only have one class on Wednesdays! I wouldn't recommend a block week course for a foundational class that requires cumulative knowledge, but Corporate Strategy here is a case-based class with relatively discrete lessons. It was perfect.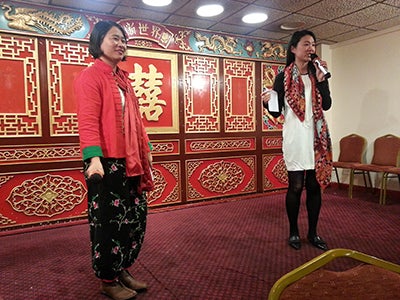 Staying in London also gave me the chance to celebrate Chinese New Year with the Intro to China Club at the New World Restaurant, a night which started with a course of pig ears and ended with a traditional red bean soup and lots of loud karaoke.
After my block week class was over, my husband visited for nine days. Hunter chose the perfect time to visit - I only had one class on Wednesday, and he could come join me for LBS' keystone event of the year, Tattoo. Tattoo is similar to Stern's Passport Day, but on a larger scale, with tents of food and performances from around the world spreading through the campus and into different buildings and quads.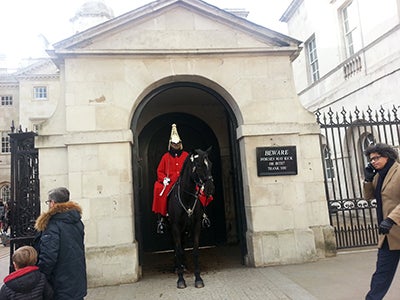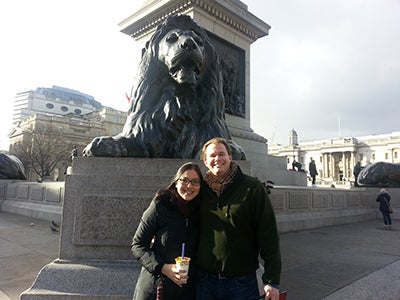 We spent the first half of his visit in London, visiting the Horse Guards, Trafalgar Square, the Shakespeare Globe Theatre, London Bridge, and Tower of London, and the second half in Scotland, splitting our time between Glasgow and Edinburgh.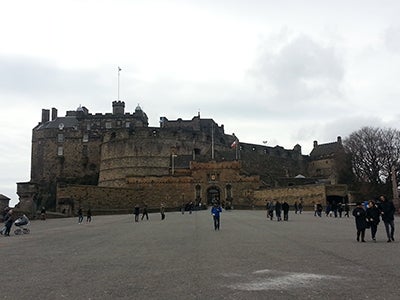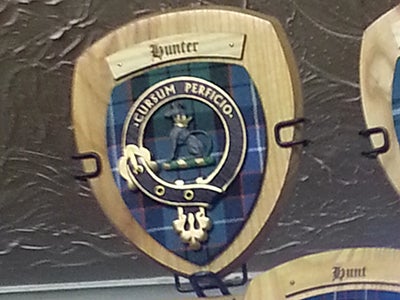 Since Hunter's family traces back to Scotland, we visited the Hunterian Museum, learned about the Hunter clan, and kept looking for the Hunter ancient plaid in between walking through the city (sense a trend here?).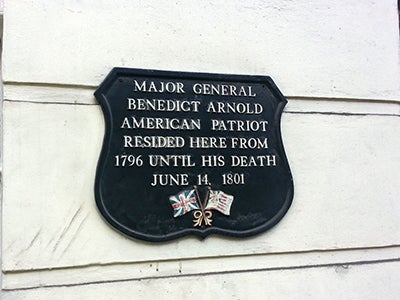 Fun Fact #1: My apartment is where Benedict Arnold lived from 1796 until his death on June 14, 1801. Little did he know, his home would later become a dental practice and a sublet to b-school and culinary school students.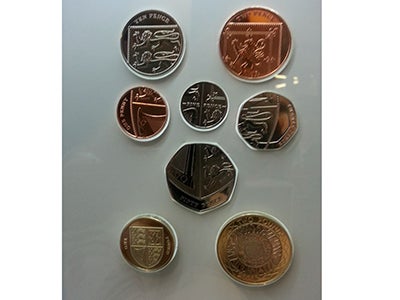 Fun Fact #2: The coins of the United Kingdom can be arranged together to form the Royal coat of arms. I have six of the coins so far; I just need the 1 pound and 2 pence - fingers crossed for a fruitful March!
Found in Brussels Fashion Storefront: NYU Sweater!  
February 5, 2015
For my final semester at NYU Stern, I chose to participate in the international exchange program at the London Business School (LBS). This is my first time living abroad, and I am loving every minute of it! Thanks to some schedule juggling earlier in the program, I am taking three classes this spring – Managing Corporate Turnarounds, Careers in Leadership and Corporate Strategy – and consulting for a UK-based start-up company through the school's Impact Consulting Club.
During my first month in London (when I haven't been on the beautiful campus in Regents Park), I explored different neighborhoods in the city and visited some of the must-see landmarks nearby.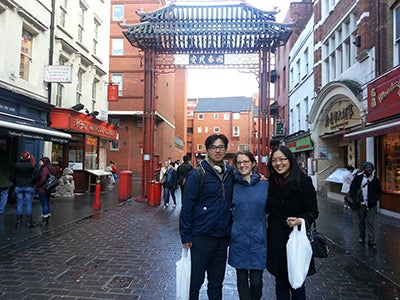 During my first week in London, a couple of exchange students (including fellow Sternie Puli Cheng) made the short trek with me to Chinatown for noodles and grocery shopping.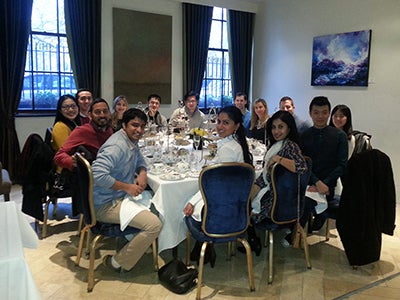 To wrap up our first week of classes, fellow Sternie Melissa Gad organized an afternoon tea in Covent Garden at the Millennium Hotel. It was my first cup of tea – of what is sure to be many – in England.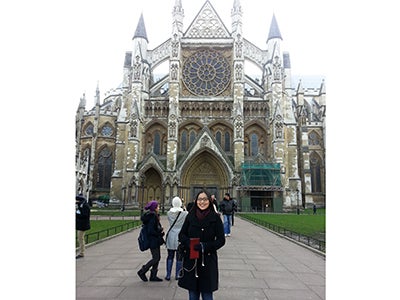 It wouldn't be a trip to London if I didn't ogle outside the gates of Buckingham Palace and visit the Parliament buildings, Westminster Abbey and Big Ben close by.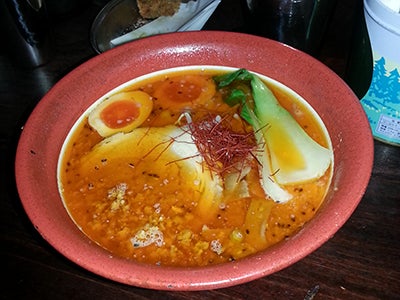 To reward myself for a long day's walk, I joined some exchange students for ramen at Bone Daddies in Soho (the other one).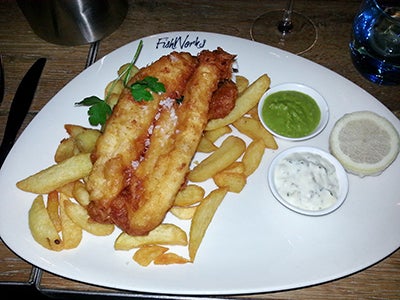 It took me two weeks, but I finally got fish and chips at Fishworks, a seafood-mart-in-the-front, restaurant-in-the-back in Marylebone (pronounced Ma-rill-leh-bow, Mar-lee-bone, and eight other ways thus far).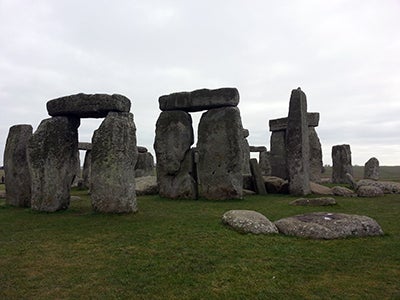 As January came to a close, I put on my tourist hat and got on a "coach tour" for a day trip to Stonehenge and Bath.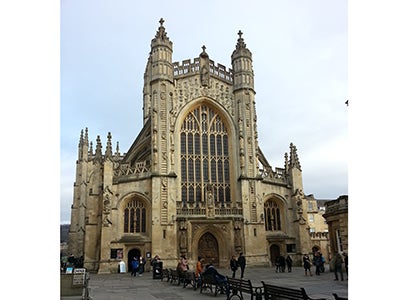 This beautiful Gothic church, Bath Abbey, was built in 675 and has been repeatedly ruined and rebuilt over the centuries. In 1574, Queen Elizabeth I established a national fund for the church's restoration.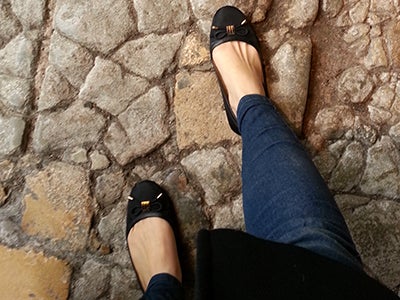 Walking where Romans walked, in the excavated and restored Roman Baths.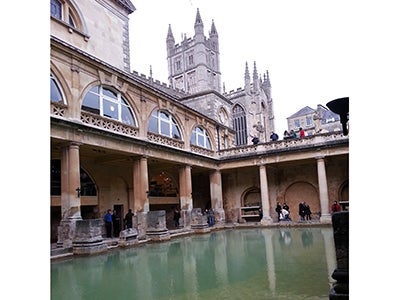 The Great Bath, where Romans socialized with each other and worshipped.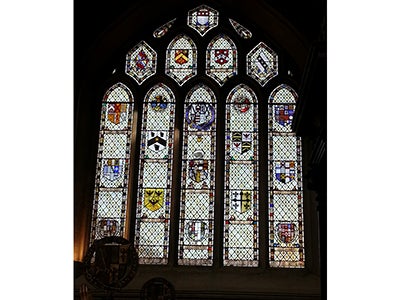 Stain glass at the abbey shows a familiar business school logo. William Penn's hometown, the original Pennsylvania, is approximately 6 miles away from Bath.
---