Voices from Abroad
Studying in Seoul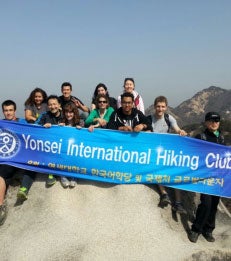 MBA student Sabrina Tachdjian blogs about her experience as an exchange student at Yonsei University in Seoul.
After coming back to the US for graduation and enjoying the many reunions and celebrations with my dear Sternies, I am, sadly, closing the New York chapter of my life. But it is with much excitement that I write a new one as I start my new job - guess where? Seoul!
MBA student Sabrina Tachdjian blogs about her experience as an exchange student at Yonsei University in Seoul.
July 8, 2013
I spent a total of three months in exchange at Yonsei University this spring. Between Korean language and business classes, my course load was quite heavy but I still managed to have a great time. The Global MBA program here is actually quite small in size (about 40 students) and it was therefore easy to get to know my classmates. Native and overseas Koreans make up for about half of the GMBA program and the rest is an interesting mix of nationalities as we have classmates from Columbia, England, the US, Kazakhstan, Singapore, Thailand, Taiwan, Japan, India, Bulgaria, and more. Add a few exchange students from Europe and North America and you have a perfect melting pot right in a country where foreigners barely account for two percent of the population.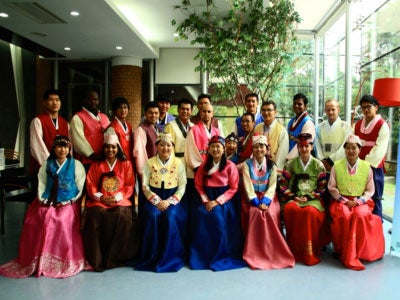 Yonsei Global MBA international students wearing traditional Korean clothes at their orientation last fall (photo credits: Yonsei GMBA)

As crazy as my schedule was, my first couple of weeks allowed me to do some exploring, as my marketing research class led my team and I to investigate the potential for medical tourism in the southern city of Busan. It all came together very quickly through a Yonsei alumnus who also happens to be an entrepreneur in the field and agreed to take my team on a study trip there. Within 48 hours of coming up with our research topic, we found ourselves on the high-speed KTX train heading south.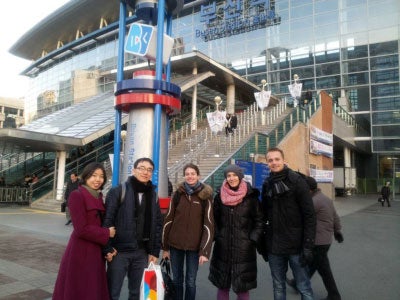 With my team at Busan station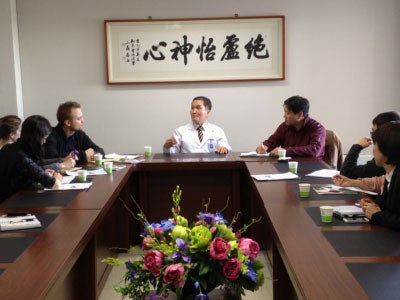 My teammates and I interviewed a hospital director in Busan.

Once in Busan, we visited a hospital that runs a medical tourism program, and interviewed several staff members and patients. There was also time for fun activities like a barbecue on our local contact's boat (in January, brrr), and a late night visit to a Korean spa. We also indulged in local seafood at Jagalchi market, where hungry visitors first select live seafood from vendors who then send their catch to a restaurant in the same building. The chef will then prepare a delicious (and sometimes still moving) sashimi course, followed by a spicy fish soup.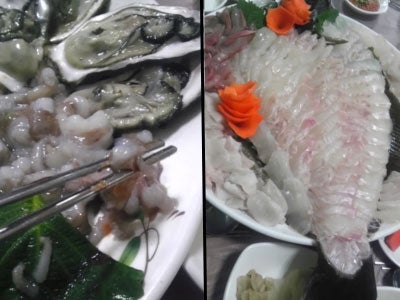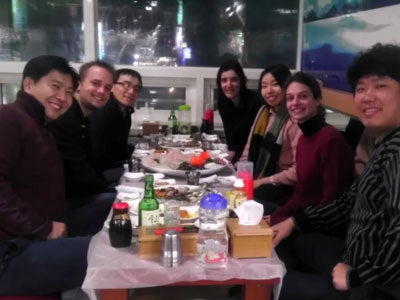 The fresh octopus sashimi (top left) was fighting back to stay on the plate but the fish sashimi (top right) was a little more tame. Bottom: our hosts with the Yonsei team at Jagalchi market

January was bitter cold in Seoul, and living with dysfunctional heating was rough, so I was quite relieved to head back to New York for the winter break in February. Unfortunately more cold and snow were awaiting me in New York. With a little luck, I found a last minute fare to Hawaii and before I knew it I was swimming, snorkeling, hiking, and recharging my batteries in Oahu.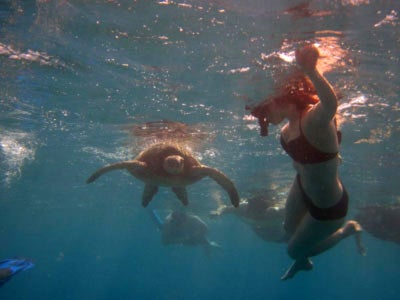 Winter break in Hawaii: swimming with giant sea turtles near Waikiki

By the time I got back to Seoul, in March, it was still cold but this did not keep me from exploring. My second module was again quite busy with course work. While I had successfully front-loaded my MBA classes to get by with only two electives, I compensated by taking 20 hours of weekly Korean instruction both at and outside of Yonsei. But don't worry, I was still enjoying my weekends and getting out of Seoul on a regular basis. In March I took a day trip to Ganghwa and Seongmo Islands, off of the Korean west coast.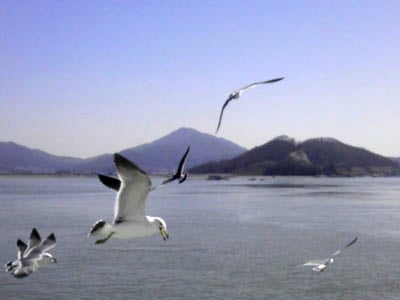 Seagulls following our ferry between Ganghwa and Seongmo Islands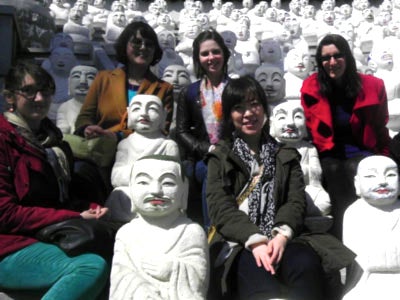 Bomunsa temple on Seonmo Island

While the Korean coast is still wild and beautiful, let's not forget that Korea is mostly a mountainous country. Koreans love hiking and do it in style, usually outfitted from head to toe in branded mountain gear, and often using walking poles. I was therefore eager to emulate the locals and check out some popular trails. Joining the Yonsei Hiking Club also provided a great excuse to get out of the city. Our first hike was Mount Bukhansan, a short car ride from Seoul. The climbing poles and branded gear immediately made more sense when I realized that our "trail" was actually a serious hike that involved a lot of climbing. Yet this rough terrain seemed to leave Korean septuagenarians unfazed as they (unlike me) swiftly made their way to the summit. The view from the top was worth the effort, don't you think?

Climbing Bukhansan with the Yonsei International Hiking Club.

My next trip was to the cherry blossom festival in the small southern town of Jinhae, followed by another stop in Busan. Since living in Japan a few years ago, I try to celebrate cherry blossoms every spring and Jinhae proved to be the perfect destination this year.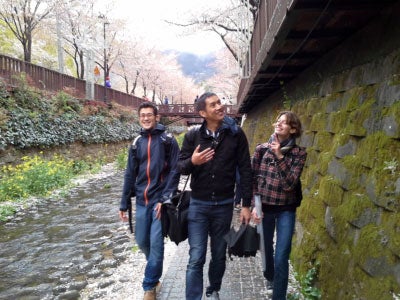 Jinhae: my friends strolling along a canal bordered by blooming cherry trees

A couple of weeks later in April, we headed back south again to stay at a Golgulsa, a Buddhist temple where monks practice martial arts. I forgot to mention that I had started taking Taekwondo lessons on campus, and emboldened by my new hobby, thought it would be fun to do something more active than meditation for a temple stay. We did of course also get to meditate, waking up at 4 am for morning chants and walking meditation. While I value my sleep too much to find such lifestyle sustainable on a more than occasional basis, walking through the forest at day break while listening to the birds sing was quite a nice lovely start to the day. But the main attraction of Golgulsa was the martial art experience, and we had the chance to see demonstrations as well as practice with a master. Quite an experience as you can judge by the pictures…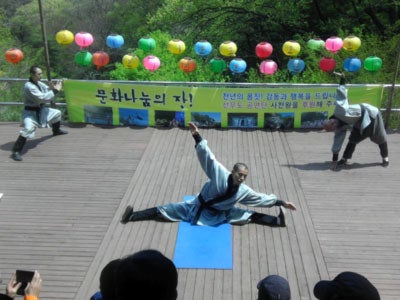 Martial arts demonstration by Golgulsa temple monks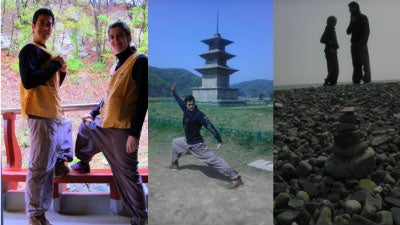 Left: the incredibly stylish martial art uniforms. Center: Having a "Shaolin" moment. Right: Excursion to a nearby beach


My blog might give you the impression that I didn't do much in Seoul itself. Actually, it was quite the opposite, but it would take too long to document every outing. Since a picture is worth a thousand words, I put together a little selection of my best times in Seoul.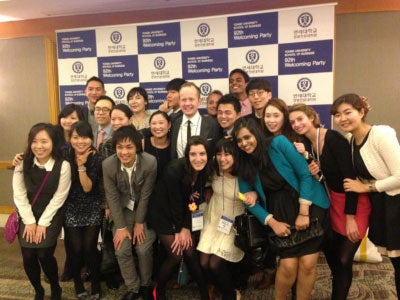 Welcome party for a class of incoming Korean MBA Students. Each class had to do a performance so ours did our own version of Gangnam style, in Gangnam of all places! (Pictures of my dancing self not included due to high potential for embarrassment)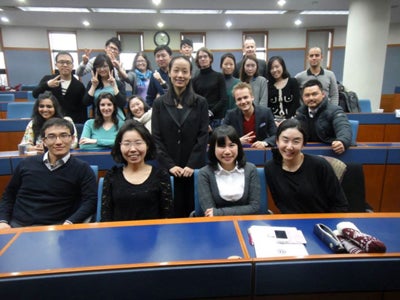 My class with visiting professor Shali Wu, teaching Marketing in China, one of my favorite classes at Yonsei



My classmates and I watching the Korean team crush Quatar in the Soccer World Cup qualifiers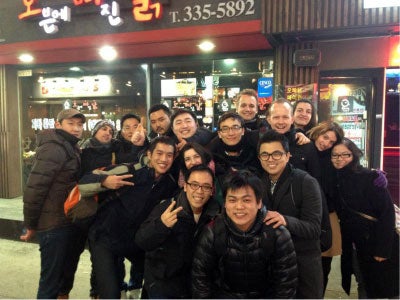 Good times in Sinchon, the student district where Yonsei is located

Time flies when you are having fun and indeed, three months in Korea went by in the blink of an eye. After coming back to the US for graduation and enjoying the many reunions and celebrations with my dear Sternies, I am, sadly, closing the New York chapter of my life. But it is with much excitement that I write a new one as I start my new job - guess where? Seoul!

January 31, 2013
On my way to South Korea: New Year in Shanghai!
Greetings everyone!
I am a second year full-time MBA student currently in exchange in the Global MBA program a Yonsei University in Seoul. I have been here for almost a month and it's been a fantastic experience so far, but let me rewind a bit…
My journey eastward actually started with a three-day stop in Shanghai where I spent the New Year with one of my favorite Sternies, Qingdao native Rita. This was actually my second time in the "Paris of the East," but, after seven years, I could barely recognize the skyline. This is what it looks like now: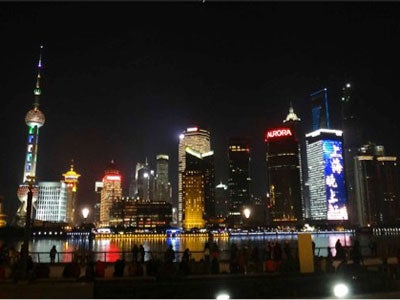 View of Pudong District from the Bund
Shanghai is by any means a modern megalopolis, with the same, predictable Starbucks Cafes and H&M stores that you would see in New York. In search for more authenticity, we therefore decided to venture in the newly renovated French concession, and spent some time in the Tianzifang Arts and Crafts area for a laid-back afternoon.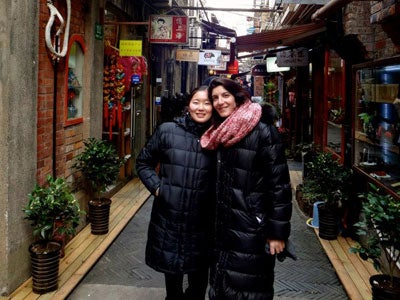 Two Sternies in Shanghai: The Tianzifang Arts and Crafts Area
The following day, a discussion with a local restaurant owner unexpectedly led us to the old canal town of Qibao, accessible by subway from downtown Shanghai.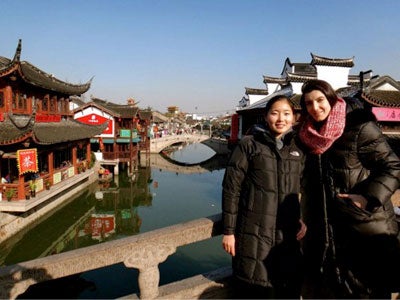 The Canal Town of Qibao
Being a big fan of street food, I particularly enjoyed the stroll along the photogenic food market.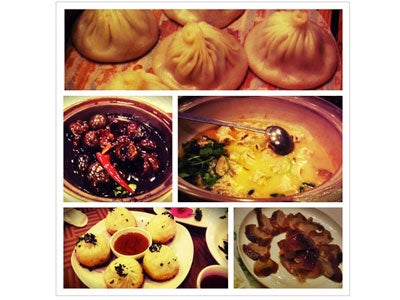 Qibao Street Food Market
There was indeed a lot of eating done on this trip to Shanghai and I must have consumed enough soup dumplings to last me a lifetime!
Sampling Chinese goodies: from steamy xiaolongbao (soup dumplings, top) to crispy Peking Duck (lower right)
But all good things must come to an end, and 2013 started at 400km/hr with a Maglev ride to Pudong Airport.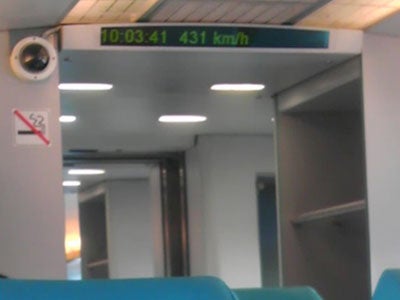 On the Seven-Minute Maglev ride to Pudong Airport
Before I knew it, I was in Seoul, getting ready for classes at Yonsei starting on January 2.
Stay tuned for updates from Korea!