Business Across Borders
Stern's Urbanization Project Hosts a Conversation with Sergio Fajardo, Governor of Antioquia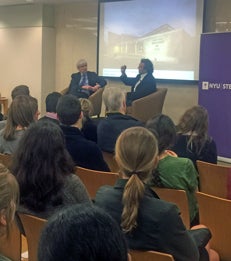 As a part of the Conversations on Urbanization series held by NYU Stern's
Urbanization Project
,
Paul Romer
, director of the
NYU Marron Institute of Urban Management
and professor of economics, spoke with Sergio Fajardo, governor of Antioquia, Colombia, and former mayor of the city of Medellín, in a public presentation on April 22. During the conversation, they discussed the challenge of fostering cities that are safe and inclusive.
Fajardo, who transitioned into politics from an earlier career as a mathematician, explained his initial motivation to serve as a leader in Colombia. In Medellín, he was concerned that many citizens' lives were focused on surviving day-to-day. "I wanted to rebuild my people's hope and dignity," he recalls of his decision to run for mayor. He took a mathematical approach to his job, noting, "In politics, as in mathematics, proceed from first principles." He determined three key problems that needed to be solved – inequality, violence and corruption – and then focused on solving each one.
The creation of public space was a critical aspect of Fajardo's plan: "To fight violence we had to get the people together, to come out of homes and into public spaces. We needed a new skin in our city." He shared several examples of his efforts, including an innovative new type of public space he developed in the city's poorest neighborhoods. Now widely known as "Parques Biblioteca," these public areas contain a library surrounded by green park space. The community was involved in the development of the Parques Biblioteca, which gave them a sense of ownership over the spaces. Fajardo emphasized the importance of investing in projects that will benefit all citizens, noting, "The privileges I had should be a right for everybody."