Business Across Borders
NYU Stern Urbanization Project and UN-Habitat Show Cities Are Neglecting Public Space in New Developments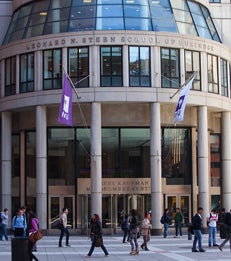 On April 4 and 5, the NYU Stern
Urbanization Project
and UN-Habitat released the preliminary results of Monitoring Global Urban Expansion, a research program exploring the characteristics of the world's 4,230 cities, at the Habitat III Thematic Meeting on Public Space in Barcelona, Spain.
Dr. Joan Clos, executive director of UN-Habitat and former mayor of Barcelona, spoke about the importance of urban planning, encouraging cities to wrest back the urban expansion process from private developers and take the lead in creating democratic cities with small, walkable blocks, affordable housing and strong connectivity. Clos encouraged cities to use public space to organize the urban fabric and to create a sustainable, equitable and productive environment. Patrick Lamson-Hall, an NYU researcher, was present to answer questions about the research and the methodology.
Dr. Eduardo Moreno, head of research and statistics for UN-Habitat, explained some of the results, pointing out that cities globally are devoting only 21% of their land area to streets in areas developed between 1990 and 2015. This is only 2/3 of the recommended average and potentially indicative of serious future problems with connectivity and traffic. The Monitoring project includes an analysis of historical urban layouts which found that the share of land in streets has fallen by 1/4 since 1900, even as cities and transportation have increased in size.
Monitoring Global Urban Expansion is a joint undertaking between the NYU Stern Urbanization Project, UN-Habitat and the Lincoln Institute of Land Policy. The final results will be released in time for the Habitat III Conference in Quito, Ecuador, on October 2016. The research is being coordinated by NYU and managed by Senior Research Scholar
Shlomo Angel
. The methodology was developed jointly by NYU, UN-Habitat, the University of Connecticut and gvSIG Association.
The research program focuses on the study of the universe of 4,230 cities that had populations greater than 100,000 in 2010. To study this universe, a statistically robust stratified sample of 200 cities was created. This is known as the UN sample. Within this sample, researchers use satellite imagery to assess both the quantity of growth and the quality of urban layouts over three time periods – the area of the city that existed in 1990; the area that was built between 1990 and 2000; and the area that was built between 2000 and 2015. This allows the study to observe trends over time as well as project future expansion.
The Barcelona Thematic Meeting focused on the importance of public space in the New Urban Agenda with an eye toward the need to reinvigorate the idea of using public space to shape the fabric of the city. The meeting culminated in the release of the Barcelona Declaration, a statement of principles that calls for democracy, inclusiveness and the preservation of public space in cities.