Business and Policy Leader Events
NYU's 12th Annual Social Innovation Symposium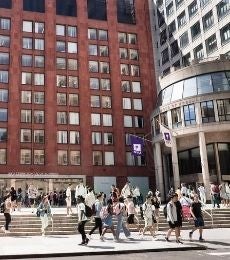 Please join us for NYU's 12th Annual Social Innovation Symposium! We are excited to welcome Jorge Fontanez, CEO of B Lab, for our keynote conversation.
This year's theme, Innovation for Impact: How Crisis Drives World-Changing Ideas, will explore extraordinary responses to change and crisis. Whether faced with problems like a global pandemic, generational poverty, or the existential emergency of climate change, panelists will speak on how they've been able to design new solutions and foster unexpected optimism. Participants will be inspired to innovate under pressure and will learn tips and tricks from social impact leaders of today.
Schedule of Events:
12:00-1:15 Keynote Conversation with Jorge Fontanez, CEO of B Lab
1:30-2:30 Breakout Session 1
2:45-3:45 Breakout Session 2
Breakout Session topics will include: Moonshots for Climate Innovation, Innovating for Informal Economies, Helping Teams Navigate through Crisis, The Role of VC in Purpose-Driven Startups, Innovations in Digital Healthcare Solutions, and The Influence of Social Media .
Please see the c
onference website
for more information.