NYU Teams Win $200K in the Stern School's 2015-2016 Entrepreneurs Challenge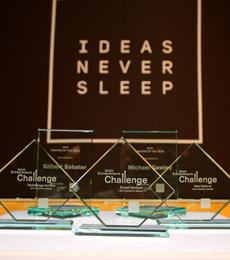 At the conclusion of an eight-month competition, NYU's most promising innovators received a combined $200,000 in start-up cash at the annual $200K Entrepreneurs Challenge, held by
NYU Stern's W. R. Berkley Innovation Lab (iLab)
. The four winning teams – composed of students, faculty and alumni from across the University – were chosen after pitching their ideas and enduring Q&A by judges from venture capital, technology and design, and social enterprise sectors.  
May 6 marked the culmination of one of the largest and most rigorous venture competitions in the world. Some 231 teams comprising more than 800 entrants from 16 schools at NYU competed this year in one of three challenges:
New Venture
, for those pursuing start-ups in a variety of sectors;
Social Venture
, for those pursuing both social impact and financial sustainability; and
Technology Venture
, for those focused on bringing intellectual property developed at NYU to market. The awards presented in each category were:  
New Venture Competition Winner
Two teams split the $75,000 Rennert Prize, made possible by a gift from Stern Board of Overseers member Ira Leon Rennert (MBA '56):
RateFrame
and
Sani
RateFrame was awarded $50,000 to launch their venture – a fun, visual tool that allows consumers to easily highlight, play back and share their favorite moments of online videos.  The venture was founded by NYU Stern alumni Chris Alexander (MBA '15) and Seth Squadron (MBA '14), NYU Tandon student Rahul Joshi, and NYU's College of Arts & Science alumna Miranda Fluharty (BA '13).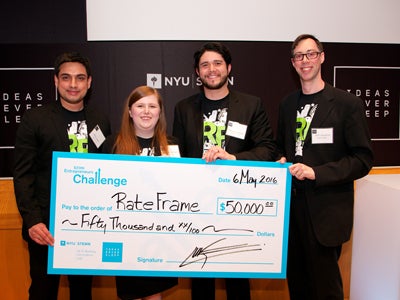 Also receiving a nod from the judges, and $25,000, was
Sani
, a start-up offering meal replacements that are personalized for an individual's nutritional needs.  Founded by NYU Stern undergraduate students Sebastian Garcia and Danielle Soto, Sani provides $5 meals and helps consumer reach their health goals.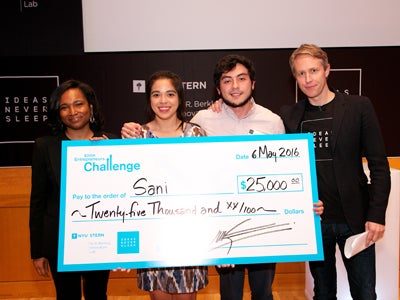 Social Venture Competition Winner
The $50,000 Social Venture Prize was awarded to
Elements Digital Health
.  Founded by NYU Stern alumni Rahul Kumar (BS '13) and Archit Vijoy (BS '12), NYU Tandon alumnus Kunal Kamle and Tandon student Christopher Neophytou, Elements Digital Health developed a diagnostic tool to identify key health issues for patients in rural areas.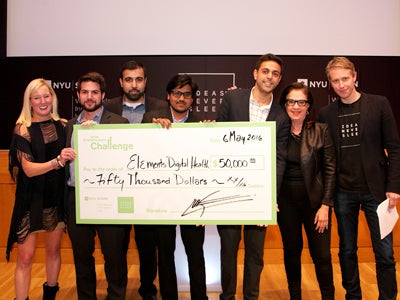 Technology Venture Competition Winners
The $75,000 Technology Venture Prize was awarded to 
Redesign Science
, a biotechnology company specializing in virtual molecular design to support the discovery and optimization of next-generation therapeutics to target pathological protein-protein interactions.  Founded by members of the Chemistry Department in NYU's Graduate School of Arts and Science – Dr. David Rooklin, a post doc, and two PhD students, Ashley Modell and Joseph Katigbak – Redesign Science aims to make drug design more efficient and effective.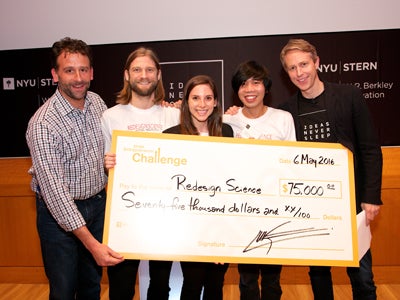 The Technology Venture Competition is co-sponsored by the NYU Innovation Venture Fund and EisnerAmper LLP.  
"Over the past eight months, our 12 finalists worked exceptionally hard with our coaches, mentors and evaluators," explained
Luke Williams
, executive director of NYU Stern's W. R. Berkley Innovation Lab. "In the end, each team emerged with a new business concept."  
"Great entrepreneurs focus on building a strong team," said
Frank Rimalovski
, executive director of the NYU Entrepreneurial Institute and managing director of the NYU Innovation Venture Fund. "This year's finalists went beyond school walls to build their teams from over five different NYU schools and colleges tapping into the incredible talent available across the University. The Entrepreneurs Challenge is a great opportunity for them to come together and receive the training, support and mentorship to transform their ideas and bring it to market."  
"This year, we saw new ventures addressing a number of business, global and societal issues.  Finalists in the Social Venture Competition are developing an Internet-based healthcare offering for patients in rural areas, an online marketplace to connect small farmers and buyers, and a platform to connect high school students with nonprofit organizations that need help expanding their social media presence and measuring their social impact," said 
Jill Kickul
, director of Stern's Program in Social Entrepreneurship.  
Each finalist team delivered a three-minute pitch followed by a short "Explainer Video" before an audience of NYU students, faculty and alumni, who voted for their favorite teams.  This year,
AlexaPath
,
Grou
and
Negotiatus
received the
Audience Choice Awards
.  
In addition, faculty from Stern's Management Communications Department selected three winners for this year's
Communications Awards
, recognizing
Theatre Galleria
,
MyDrop
and
Negotiatus
for their exemplary presentations.    
In recognition of the critical role volunteers play in mentoring, coaching and judging the teams throughout the competition,
Gilbert Sabater
and
Michael Gawley
received this year's
Volunteer-of-the-Year Award
, presented by the Berkley iLab's Loretta Poole.  
The winner of Stern's new
Mobile App Contest, "Mission: Appossible,"
was also announced:
PocDoc
.  More than 120 applications were received in the Contest's inaugural year, from which three finalists vied for a chance to have their app fully developed by Messapps, a New York-based design and development studio, or $10,000.  The People's Choice Awards in this year's Mobile App Contest went to
MySecret
,
TapIn
and
LifeBucks
.  
This Year's Judges
Technology Venture Competition: Kim Armor, CFO/head of business development, Comcast Ventures; David Aronoff, general partner, Flybridge Capital Partners; John Elton, partner, Greycroft Partners; Geoffrey Smith, founder and managing partner, Digitalis Ventures; and Misti Ushio, CEO, TARA Biosystems.
Social Venture Competition: Marissa Feinberg, founder and chief storyteller, Triple Bottom Why Consulting; Daniel Katz, senior program director, The Overbrook Foundation; Greg Van Kirk, co-founder of Community Enterprise Solutions and Social Entrepreneur Corps; Maggie Louie, associate director of finance for health care, Planned Parenthood Federation of America; Sean Moore, associate director, Acumen; and Suzi Sosa, co-founder and CEO, Verb.
New Venture Competition: William R. Berkley, founder and executive chairman of W. R. Berkley Corporation, chair of NYU's Board of Trustees, chair emeritus of Stern's Board of Overseers and Stern alumnus (BS '66); Brian Cohen, chairman, New York Angels; Robert Fabricant, co-founder and principal, Dalberg's Design Impact Group; Jalak Jobanputra, founding partner, FuturePerfect Ventures; and Adaora Udoji, chief storyteller, Rothenberg Ventures.  
Find out more about Stern's Entrepreneurs Challenge
Visit the NYU Stern W. R. Berkley Innovation Lab website
Watch the webcast of the event:
---