Research Center Events
Seventh Annual Satter Conference of Social Entrepreneurs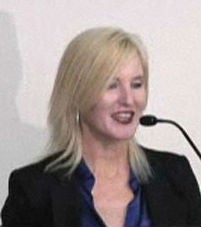 Exploring the Latest Strategies for Measuring Social Impact
Exploring the Latest Strategies for Measuring Social Impact
"While the social entrepreneurship field has matured, our ability to measure the impact of a venture's efforts still remains a significant challenge for most organizations," explains NYU Stern Professor
Jill Kickul
, organizer of NYU Stern's Seventh Annual Satter Conference of Social Entrepreneurs.
Tackling this issue head-on, international and nation-wide practitioners from the public, nonprofit and for-profit sectors, along with leading academics from around the world, convened for the Satter Conference on November 5. Participants discussed some of the latest approaches for measuring an organization's social impact – key information for influencing today's social capital market investors and key stakeholders.
Hosted by Stern's Berkley Center for Entrepreneurship & Innovation and sponsored by the Stewart Satter Program in Social Entrepreneurship, the event followed a two-day academic conference featuring recent research on sustainability initiatives, social entrepreneurship education and several other topics in the social enterprise space.
---
Jason Saul,
founder and CEO of Mission Measurement, LLC, a social impact consulting firm, kicked off the November 5 conference, declaring the end of fundraising. "It's Ok to expect an economic return for doing good," argued Saul. The market values social change, but before they invest, they need to see outcomes, not activities, he explained. He urged social enterprises to move away from the notion of charity, in favor of selling their impact. With this approach, he described how social enterprises can tap into a new set of stakeholders, or Social Capital Market Impact Buyers, which include corporate partners, beneficiaries, upstream consumers, service providers and social investors.
---
Linda Rottenberg
, CEO and co-founder of Endeavor, a nonprofit organization that identifies and supports high-impact entrepreneurs in emerging markets, shared some of Endeavor's history as well as future plans. Emphasizing the unique benefits of investing in social enterprises, she said that "psychic rewards don't lose value when the stock market plummets." She also argued that employees of nonprofits and social enterprises should not necessarily be taking a vow of poverty. According to Rottenberg, the last piece of the social enterprise puzzle is finding a way to both attract and retain top talent in the sector.
---
Laura Callanan and Jonathan Law
of McKinsey & Company conducted a beta-test launch of the Learning Driven Assessment Workbook with conference participants. In break-out sessions, participants were walked through a three-step process for designing an assessment plan: (1) clarify the objectives; (2) identify specific indicators; and (3) consider the organization's priorities and their implications for the assessment plan. They referenced an online database of Tools and Resources for Assessing Social Impact (TRASI), as a good resource for plan implementation.
---
Professor Debbi Brock
of Anderson University delivered a presentation on "Preparing the Next Generation of Change Agents." She identified four ways in which individuals can shape the world: (1) knowledge and skills; (2) attitudes and values; (3) decisions; and (4) actions. Pointing to the rapid growth in social enterprise education across the country, she argued that we need to shift focus toward scaling social impact. With this goal in mind, she shared a business model framework for social enterprises, touching on the importance of value creation, operational efficiencies, profit models and value networks.
---
David Bornstein and Susan Davis
, authors of Social Entrepreneurship: What Everyone Needs to Know, shared their experiences writing the recently published book. Bornstein, who authors a column in The New York Times called "Fixes," identified several characteristics that are unique to entrepreneurs, including a high level of comfort with uncertainty and financial instability. He also discussed the role of the intrapreneur, an employee who seeks to effect change within an organization. Davis, founder, president and CEO of BRAC USA, a development organization dedicated to alleviating poverty, who also serves as senior advisor to NYU's Reynolds Program on Social Entrepreneurship, concluded the discussion saying, "When social entrepreneurship succeeds, the result will be transformation of how we eat, work, play, live and die."
---
---
Additional conference highlights included:
Kate Robinson's documentary film on social impact assessment, Saving Philanthropy: The Voyage from Resources to Results
Durreen Shahnaz, Asian Impact Exchange, a social stock exchange based in Singapore
Case study with Benjamin Stone & Matthew Mitro of Indego Africa, a social enterprise that partners with women artisans in Rwanda on a fair trade basis to address poverty in Africa
Jeremy Nicholls, SROI Network, and Sara Olsen, SVT Group, on bridging practice and research on social entrepreneurship
Louise Guido, Foundation for Social Change