Budding Entrepreneurs Vie for $200K in the Entrepreneurs Challenge
More than 450 aspiring entrepreneurs from NYU's student, alumni and faculty communities gathered in Paulson Auditorium to hear about this year's Entrepreneurs Challenge.
During the official Kick-Off, attendees received information about NYU Stern's 13th Annual New Venture Competition and 9th Annual Social Venture Competition – both sponsored by
Stern's Berkley Center for Entrepreneurship & Innovation
– and NYU's 2nd Annual Technology Venture Competition, hosted by Stern's Berkley Center and NYU's Innovation Venture Fund.
*
Watch Highlights from the 2011-2012 Entrepreneurs Challenge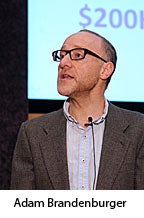 The NYU Stern Entrepreneurs Challenge is the premier platform for identifying, nurturing and showcasing entrepreneurial talent at NYU. Lasting eight months, it provides aspiring entrepreneurs with frameworks, mentoring and financial support to stimulate new venture creation. Cash prizes totaling $200K will be awarded to the winners of this year's competitions.
Adam Brandenburger
, vice dean for graduate education, opened by saying that "progress truly depends on the entrepreneur." Adapting George Bernard Shaw, Brandenburger said that positive change depends on "unreasonable people who have an unreasonable confidence in their ideas and an unreasonable insistence that people listen, and who do an unreasonable amount of work."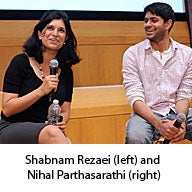 Shabnam Rezaei (MBA '01), founder of Big Bad Boo Studios and a 2005 Entrepreneurs Challenge winner, described the value of participating in the competition: "It gave me the framework I needed while working full time to get my idea off of the ground."
Nihal Parthasarathi (BS '08), founder of
CourseHorse
and winner of the 2011 New Venture Competition, recalled: "Our business was going in the right direction but we didn't know how to communicate it. With help from mentors, who were there for us on evenings and weekends throughout the competition, we learned how to communicate our ideas effectively to potential investors."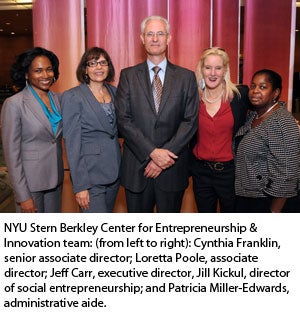 Visit the
Entrepreneurs Challenge website
for details on eligibility, requirements and key dates associated with the three competitions.
Follow the Entrepreneurs Challenge on Twitter @NYUChallenge
Like the Entrepreneurs Challenge on Facebook at
www.facebook.com/nyuchallenge
About the Berkley Center
The
NYU Stern Berkley Center for Entrepreneurship & Innovation
is dedicated to conducting and supporting entrepreneurship research and education.
About the NYU Innovation Venture Fund
The NYU Innovation Venture Fund was created to accelerate the transformation of technology ideas and discoveries from the University's students, faculty and researchers into viable ventures.
---