Press Releases
NYU Stern MBA Students Win 2013 Interactive Launch Competition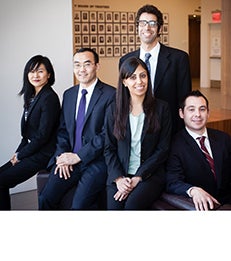 Now reigning champions, Stern has won the competition two years in a row.
A team of five NYU Stern MBA students won the Third Annual Interactive Launch Competition by presenting a business analysis and marketing strategy for multi-screen "TV anywhere" technology offered by ARRIS, a leading video technology supplier. Now reigning champions, Stern has won the competition two years in a row. This year, they bested teams from Harvard Business School and Howard University School of Business who placed second and third respectively. The Stern team was awarded a $2,000 cash prize to support their education. Stern also won this year's inaugural Audience Choice Award.
Several weeks ago, each student team was paired with a mentor and presented with a case study aimed at supporting ARRIS's Media Streamer 4000 in-home video gateway, which uses Sling Media Inc. place-shifting technology to provide in-home and out-of-home viewing on broadband-connected devices, including laptops, tablets and smartphones.
On November 20, the teams pitched their ideas to a panel of judges, including Nomi Bergman, president, Bright House Networks; Mark Hess, senior vice president of business and industry affairs, Comcast; Rick Mandler, vice president of new media sales, ABC Television Networks; Craig Moffett, senior research analyst, MoffettNathanson Research; and Peter Stern, executive vice president, chief strategy, people & corporate development officer, Time Warner Cable.
The winning Stern team led by Daniel Schneider, included Andrew Dolan, Kyle Ishii, Michelle Ow and Kiran Sachdeva. Tom Williams, vice president of marketing and business development for ARRIS, served as the team's mentor.
Professor
Al Lieberman
, executive director of NYU Stern's
Entertainment, Media and Technology Program
, helped select and coach the members of Stern's team. He also helped organize this year's event, which was held at NYU's Kimmel Center. The competition was founded and hosted by Craig Leddy, president and senior market analyst for Interactive TV Works, and supported by the Cable & Telecommunications Association for Marketing and Horowitz Associates, a leading market research firm.
Pictured above:
(from left): Michelle Ow, Kyle Ishii, Kiran Sachdeva, Daniel Schneider and Andrew Dolan. (Photo credit: ©Peter Serling, 2013)