Business and Policy Leader Events
NYU President John Sexton Delivers the 2015 Ashok C. Sani Distinguished Scholar-in-Residence Lecture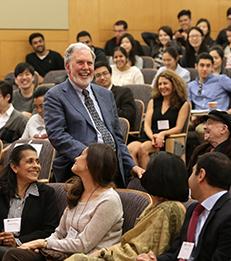 John Sexton, president of New York University, delivered the 2015
Ashok C. Sani Distinguished Scholar-in-Residence Lecture
to a packed auditorium of undergraduate students, alumni and guests from the family of alumnus Ashok C. Sani (BS '74).  This year's talk, entitled "Ecumenism and the University," was hosted by NYU Stern's
Undergraduate College
and
Business & Society Program
in conjunction with the "Law, Business & Society" course, a part of Stern's social impact core curriculum.  
VIDEO: Watch the lecture
President Sexton described NYU as the "first ecumenical university, located in the world's first ecumenical city."  Describing NYC as a "community of communities," composed of individuals from around the world with neighborhoods reflecting nearly every country across the globe, he argued that New York embodies the virtues of ecumenism – embracing others and ourselves through a new world view and celebrating our differences.  NYU, he argued, is deeply intertwined with New York City itself and by virtue of its founding vision – Albert Gallatin's idea of being "In and of the City" – is similarly committed to ecumenical ideals: welcoming and supporting diversity.
He also shared a few pieces of advice with students:
Don't be afraid to travel outside of your comfort zone.  "Play another octave of the piano," he urged.
Find the right life partner
Insist on being better and making the world better every day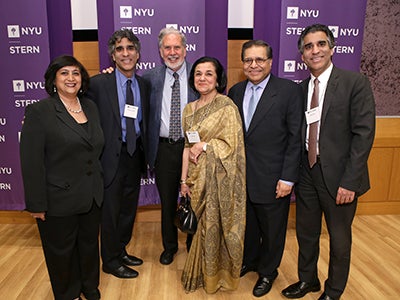 About the Ashok C. Sani Scholar-in-Residence Lecture
Ashok C. Sani (BS '74), for whom this lecture is named, was a distinguished graduate, successful entrepreneur, president of C.G.S. Industries Inc., loyal supporter of NYU, and the founding member of the NYU Stern Alumni Council. The Ashok Sani Scholar program shares Mr. Sani's interest in ethics, truth, peace, compassion and the moral and social responsibilities of members of society with the NYU Stern community.
---