Student Club Events
2018 Graduate Marketing Association Conference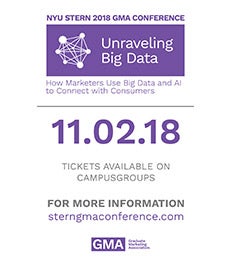 Date
: Friday, November 2, 2018
Time
: 12:30 PM - 7:00 PM EDT
Location
: Kimmel Center for University Life, 60 Washington Square South, New York, NY 10012
On Friday, November 2, the Stern Graduate Marketing Association will host its annual conference entitled, "Unraveling Big Data: How Marketers Use Big Data and AI to Connect with Consumers." The conference will highlight brands and firms who have led the change to impact entire industries. The goal for the conference is to create a forum where current topics at the intersection of marketing and technology can be discussed by leading professionals in an academic environment. In particular, the conference will facilitate discussion around how data and artificial intelligence are redefining the marketplace, the consumer experience journey and marketing strategies for brand differentiation. With increasing competition, marketers are becoming more resourceful and embracing data analytics as an essential tool to drive a stronger connection with consumers.
For registration information and to learn more, please visit
the conference website
.