Student Club Events
2018 Latin American Business Conference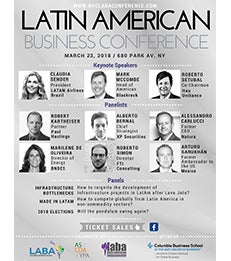 Date:
Friday, March 23, 2018
Location:
680 Park Ave, New York, NY
On March 23, NYU Stern's
Latin American Business Association
(LABA) will co-host its 2018 Latin American Business Conference, which will center around pressing issues, challenges and achievements in the region.
The event will bring together leaders from Latin America for the full-day conference. Experts in economics, politics, management and infrastructure will speak in a series of panels about the current reality of social change and business in the region. Attendees will have the opportunity to network with these leaders, dive into regional and global trends and be part of an ongoing dialogue.
For more information, including an agenda, please visit the
conference website
.