Student Club Events
2019 Latin America Business Conference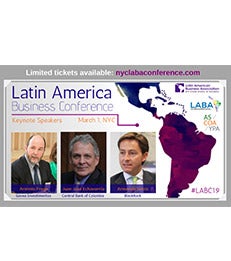 Date:
Friday, March 1, 2019
Location:
Kimmel Center for University Life, New York, NY 10012
On March 1, the Latin America Business Associations of Stern and Columbia will join forces with the Young Professionals of the Americas (YPA) to host the Latin American Business Conference.
Speakers include the current president of the Central Bank of Colombia, the former president of the Central Bank of Brazil and founder of a multi-billion dollar Brazilian hedge fund, founders of Latin America's fastest-growing FinTech startups, and representatives from BlackRock, Macquarie, Citi and Paul Hastings.
For more information, including an agenda, please visit the
event website
.