Business and Policy Leader Events
2022 Latin America Business Conference - VC in LatAm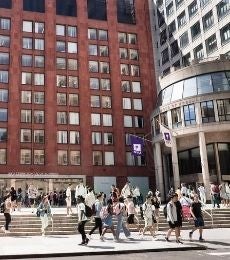 For over ten years, the Latin American Business Associations (LABA) at NYU Stern and Columbia Business School have positioned their Latin American Business Conference as one of the most anticipated forums to discuss the pressing issues, challenges, and achievements of the region. This year we are partnering with Latin America Leadership Academy (LALA) - an organization focused on creating the next generation of leaders - and AS/COA to deliver exciting keynote addresses and panels.
The 2022 conference will explore the evolving world of Venture Capital investment in Latin America. will feature keynotes from Buenos Aires' Chief of Government Horacio Larreta, Softbank's Latin Fund MD Paulo Passoni as well as founders of some of Latin America's most inspiring companies, including unicorns like Rappi, Bitso, and NotCo.
We will be covering the region's ever-growing and evolving venture capital and startup ecosystem.Panel topics will cover investment, impact, development, as well as digital transformation of the region.
For more information, please visit the
conference website
.