Association of Hispanic and Black Business Students Explores the "New Normal" at Annual Conference
"Reflect, Rethink, Reshape: Exploring the New Normal," themed the 24th Annual NYU Stern Association of Hispanic and Black Business Students (AHBBS) Conference, which brought together more than 200 students, alumni, faculty, corporate representatives and prospective students on October 16. "After a year of market turmoil, it's more important than ever for business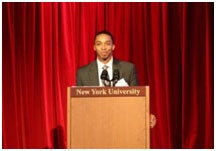 leaders to set a 'new normal.' By embracing individuality and leveraging diversity, industry experience and academic intellect, we can create new opportunities in the workplace," said Stern MBA student and AHBBS conference organizer Shyra Smart.
Keynote speaker Richard Gay, executive vice president of strategy and operations at MTV and VH1, part of the MTV Networks division of Viacom, Inc., shared career advice with attendees:
There's no such thing as a perfect job
You can't always do the math; sometimes you need to follow your gut
Don't underestimate the importance of soft skills
Know your hot-button minority issues and manage around them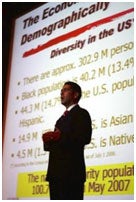 "Getting into Stern felt like a shot from half court," said Chair of the Stern Alumni Council Allan Boomer (MBA '04), vice president of private wealth management at Goldman, Sachs & Co., who received the 2009 Distinguished Alumni Award at this year's conference. He reminded current students in the audience that "you are an alumnus far longer than you are a student," and urged attendees to think about ways that they can give back to the School.
Conference participants broke into two smaller groups for concurrent industry discussion panels exploring new challenges and opportunities in the financial sector and discussing how a company can cut through the clutter by using traditional tools in combination with new tactics and mediums in their marketing efforts. Additional event highlights included a workshop with William Cruz, president of TCB Consulting, on "Managing Across Cultures," a corporate networking reception and a prospective student workshop.
Learn more about Stern's Association of Hispanic and Black Business Students
---