Business and Policy Leader Events
Alan Greenspan and John A. Paulson, Two NYU Stern Alumni, Share Insights on US and Global Markets
To mark the establishment of the Alan Greenspan Chair in Economics, Former Federal Reserve Chairman Alan Greenspan (BS '48, MA '50, PhD '77, Honorary Doctorate of Commercial Science '05) was interviewed by John A. Paulson (BS '78), the president of Paulson & Co. Inc, before a packed auditorium of more than 400 students, faculty and alumni.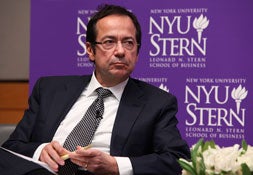 Held in Paulson's namesake event space, Paulson Auditorium, the event served as an opportunity for two illustrious alumni of the School to reflect on Dr. Greenspan's lifetime of experience and the financial crisis, and to provide their perspectives on the future of financial markets.
Paulson probed into Dr. Greenspan's 20-year career in the government sector, during which he worked closely with several presidents. Gerald Ford, he remembers, was "psychologically balanced and very effective." Describing Ford's humility, he recalled an instance in which the President apologized for not heeding his advice. He also referenced the great intelligence of both Bill Clinton and Richard Nixon, noting that President Nixon had one of the highest IQs, but had many "flaws." After stepping into office, George W. Bush promised that he would never criticize the Federal Reserve – a welcomed assurance, remembered Dr. Greenspan.
Discussing some other significant moments in his career, Dr. Greenspan remembered "Black Monday" in October 1987 when the Dow plunged more than 500 points. Despite mounting pressure to close, Dr. Greenspan encouraged the New York Stock Exchange to remain open as long as possible – a decision he credits with minimizing the imprint on the overall economy.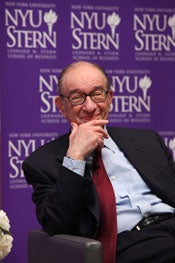 Turning the conversation to the current economic environment, Paulson asked why the country's growth has been tepid, despite significant stimulus spending. Dr. Greenspan explained that the proportion of liquid cash flow that businesses are willing to invest in illiquid assets is at historic lows: "Companies are reluctant to invest in long-term assets." He went on to say that capital investment is being "crowded out" by large federal deficits. Activism of government, he underscored, is the main cause of these deficit issues. Stressing the importance of addressing the nation's budget problems, he expressed support for the bipartisan plan, developed by Erskine Bowles, President Clinton's former chief of staff, and former Senator Alan Simpson, which aims to change tax structures and impose limits on government spending.
Reflecting on the economic crisis, Dr. Greenspan argued that TARP and the Federal Reserve's support of the commercial paper and money market mutual fund markets were essential to maintain the stability of the financial system. He said that the economy does not need to be pushed forward. Instead, he argued that the government needs to "calm down and let the economy heal itself."
Taking some questions from the audience, Dr. Greenspan shared his perspective on the housing sector. He said that gradually phasing out Fannie Mae and Freddie Mac is the best option for dealing with the mortgage issue. Paulson quipped that everyone in the audience should "run out and buy a house" before 30-year fixed mortgages are a thing of the past.
When asked if he had concerns about the United States' position in today's global economy, Dr. Greenspan recited a Winston Churchill quote as a source of comfort: "The United States invariably does the right thing, after having exhausted every other alternative."
---