Prof. William Baumol Honored at Book Signing for The Microtheory of Innovative Entrepreneurship
At an intimate reception on October 5, sponsored by the Ewing Marion Kauffman Foundation, Princeton University Press and NYU Stern, William Baumol, Harold Price Professor of Entrepreneurship and academic director of Stern's Berkley Center for Entrepreneurship and Innovation, was honored for his most recently published book,
The Microtheory of Innovative Entrepreneurship
.
"This book may well be the first formal theoretical analysis of the role of innovative entrepreneurs, the influences that drive their activities and pricing of the products that subsequently make use of their novel ideas," says Prof. Baumol.
Professor Baumol's new book focuses on the differences between the innovative entrepreneur, who puts new ideas into practice, and the replicative entrepreneur, who launches new business ventures that bears a resemblance to existing ventures. Part of the
The Kauffman Foundation-Berkley Center Series on Innovation and Entrepreneurship
,
The Microtheory of Innovative Entrepreneurship
analyzes the importance of innovative entrepreneurship in economic growth and prosperity and provides a formal theoretical analysis of the associated pricing and revenues. The book's insights, which carve out a new space for innovative entrepreneurship in today's mainstream study of microeconomics, can be used to design more effective policies aimed at bolstering economic development.
Before signing books, Professor Baumol spoke about the world's most pressing problem – poverty – and described how entrepreneurship is critical in addressing this issue. One of his aims in writing the book was to convey the importance of having a chapter on entrepreneurship included in all economics textbooks. Ultimately, he hopes that more students will become interested in the field, spurring new innovations and bringing prosperity to struggling economies around the world.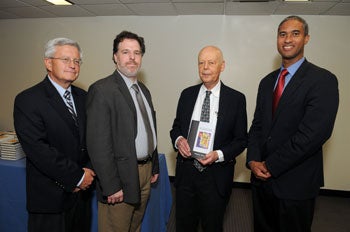 (From left to right: Robert Strom, director of research and policy at the Ewing Marion Kauffman Foundation; Seth Ditchik, senior editor at Princeton University Press; William Baumol; and Peter Henry, dean of NYU Stern)
---