Dstillery and NYU Stern Center for Business Analytics Host Second Annual ADS*CON Symposium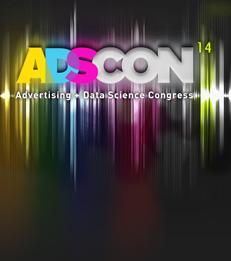 Developing the analytics capability to embrace the noise and extract value from this data is a critical skill set for businesses today. --Vasant Dhar
Practitioners and Academics from Advertising and Data Science Will Explore "Embracing the Noise"
Dstillery
, the pioneer in audience targeting for brands, will host a half-day symposium dedicated to exploring the impact of the data science revolution on the digital advertising ecosystem. Co-host for the event is the
NYU Stern Center for Business Analytics
(CBA), a cutting edge research center at the forefront of data and analytical thinking. The second annual
Advertising and Data Science Congress
(ADS*CON) will feature leading thinkers in industry and academia addressing the dramatic impact of data science on advertising.
"During our successful inaugural event, we explored how intuition and data analytics combine to drive change in the advertising business," said Tom Phillips, CEO of Dstillery. "As the world inexorably goes digital, the amount of data available for analysis expands exponentially, and with it the potential for noise. This year, ADS*CON focuses on helping marketers navigate these massive and often noisy data sets to find meaningful signals. We look forward to continuing to empower marketers with innovation and practical insights, helping them to
embrace the noise
."
"Big data offers tremendous opportunities for business, but also presents formidable challenges," said NYU Stern Professor and CBA Co-Director Vasant Dhar. "Developing the analytics capability to
embrace the noise
and extract value from this data is a critical skill set for businesses today. The Center for Business Analytics conducts academic research and works closely with industry partners to address these challenges and develop these skills."
"We are pleased to be co-hosting ADS*CON 2014 and supporting organizations to leverage their data and shape their advertising and marketing strategies. The world of digital advertising is experiencing fascinating advances, especially in mobile advertising. CBA affiliated researchers are at the forefront of this space," added NYU Stern Professor and CBA Co-Director Anindya Ghose.
Our diverse and prestigious slate of speakers will challenge attendees to think in new ways about marketing and deliver practical knowledge for leading their companies through the data revolution.
Confirmed speakers include:
Sinan Aral, David Austin Professor of Management and Associate Professor of IT and Marketing, MIT Sloan School of Management
David Cancel, Chief Product Officer, HubSpot
Drew Conway, Scientist in Residence, IA Ventures
Vasant Dhar, Professor of Information, Operations and Management Sciences, and Co-Director of the Center for Business Analytics, NYU Stern School of Business
Anindya Ghose, Professor of Information, Operations and Management Sciences and of Marketing, and Co-Director of the Center for Business Analytics, NYU Stern School of Business
Shawndra Hill, Assistant Professor in Operations and Information Management, Wharton School of the University of Pennsylvania
Geoffrey Miller, Associate Professor of Psychology, University of New Mexico
Kevin Novak, Chief Scientist, Uber
Joanna O'Connell, Director of Research, AdExchanger
Eoin O'Mahony, Citibike Optimization, Cornell NYC Tech
Claudia Perlich, Chief Scientist, Dstillery
Amit Phansalkar, Chief Data Scientist, MassMutual
Foster Provost, Professor and NEC Faculty Fellow, NYU Stern School of Business and coauthor of Data Science for Business
Neal Richter, Chief Scientist, The Rubicon Project
Jon Spinney, Director, Global Geocoding and Location-Based Services, Pitney Bowes
Eric Sumner, Partner, Lion Cave Capital
Michael Tiffany, CEO, WhiteOps
Ambrish Verma, Senior Director, Mobile Commerce, Identity and Monetization Platform, Electronic Arts
Michael Wexler, Director of Digital Insights, Global Consumer Marketing and Internet, Citibank
ADS*CON will take place on February 6, 2014 from 8:30 am to 2 pm at the NYU Stern School of Business, and registration is by invitation only, as space is limited. Interested parties should click
here
to request an invitation.
For more information, visit:
http://ads-con.com/

About ADS*CON*14
Underwritten by Dstillery and the NYU Stern Center for Business Analytics, ADS*CON*14 is a half-day symposium dedicated to the exploration of the data science revolution that is changing advertising. This year, ADS*CON is dedicated to exploring how to find meaningful signals in massive and often noisy data sets. It will explore the impact of bigger and more varied data on building models and understanding markets. The forum will feature preeminent advertising, academic and data science professionals in a fast-paced format of exploration and debate. The conference is designed for CMOs, media agency executives, strategists and data scientists, as well as anyone interested in exploring the frontiers of how advertising can capitalize on advances in technology and data science. It promises to deliver an understanding of the vast potential of embracing the noise. To learn more visit:
http://ads-con.com/
or use
#adscon

About Dstillery
Dstillery is the former Media6Degrees. We're at the forefront of advertising technology, pioneering new ways to create brand value for marketers by extracting signals from the complete customer journey and activating them across all screens. We're building on five years of leading the data revolution in marketing to drive even greater impact for your brand. More info at
www.dstillery.com
.
About NYU Stern Center for Business Analytics
The Center for Business Analytics is a research center and an interdisciplinary community at the forefront of data and analytical thinking. We're thought leaders in the world of data science, blended with business strategy. We create value and opportunity by sparking collaboration among faculty, students, alumni and industry partners related to the strategies, methodologies and critical thinking that inspires data driven decision-making. More info at
www.stern.nyu.edu/cba
Media Contacts
Brook Terran
Blast PR for Dstillery
919-480-4058
brook@blastpr.com
Rika Nazem
NYU Stern School of Business
212-998-0678
rnazem@stern.nyu.edu
---