Business and Policy Leader Events
MBA Students Compete in Amazon's 2014 Innovation Competition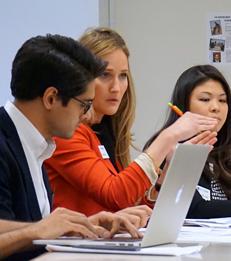 Because our student teams brought a mix of academic and professional backgrounds, we were able to critique our product and business plan from so many different angles and develop a strong idea as a result. --MBA Ayesha Abbasi
Three teams of MBA students went head-to-head, pitching their ideas for future business endeavors in the finals of Amazon's 2014 Innovation Competition. The competition gave each student team three weeks to create an actionable product or service for Amazon.
MBA students Ayesha Abbasi, Philip Bodell, Ignacio Crespo, Ashely Hedges and Sonali Pillay (pictured below) took first place for their venture idea, "AmazonFresh Fridge," a smart refrigerator that includes technology to build and purchase grocery lists as well as take orders to deliver food to your home.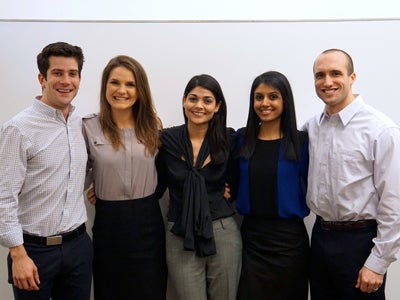 From left to right: MBA students Ignacio, Ashely, Sonali, Ayesha and Philip took the top spot in Amazon's 2014 Innovation Competition
The second and third place prizes went to "Amazon 98.6," presented by Jerry Jiang, Paramjit Singh, Alex Wang, Morgan White and Jin Yoon; and "Amazon SmallBiz: One-Stop Shop for Small Business Management," presented by Kristen Ong, Leah Shisha and Vishal Thummalapally.  
Glenn Okun
, Professor of Management and Entrepreneurship, with David Nenke, WW Director Product and Marketing, Amazon Cloud Drive, Amazon.com, developed the Amazon competition to address the accelerating pace of change in business. Now in its third year, the competition fosters innovation and entrepreneurial thinking among MBA students with an emphasis on "Think Big," one of Amazon's key leadership principles.  
Student proposals were reviewed by Amazon executives David Nenke, Meredith Bunche (MBA '13), Jeanne Barrueta and Sophie Ashton at an on-campus event on November 14. Finalists were judged on their level of innovation, the quality of their proposal, their analysis and their solutions to potential problems as a result of their innovation ideas.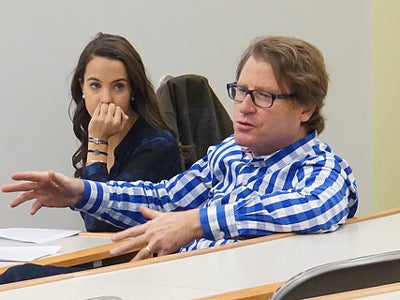 Amazon's Sophie Ashton and David Nenke judge the Amazon 2014 Innovation Competition
MBA student Ayesha explained, "Because our student teams brought a mix of academic and professional backgrounds, we were able to critique our product and business plan from so many different angles and develop a strong idea as a result."  
This year's winning team attributed their success to the collaborative, team-based approach to business innovation, an approach which Nenke says is critical at Amazon. "We listen to each other's questions and feedback as a learning opportunity. Some of our best ideas have come from original ideas," he said.
---