MBA Student Teams Vie for Top Spot in 2013 Amazon.com Innovation Competition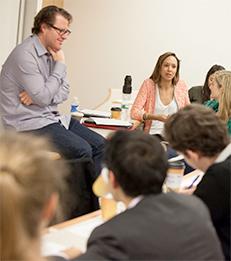 "The [competition] also identifies students who can take on an entrepreneur's role within an established company – ones who have big ideas, can devise strategies to develop their ideas into a business, and can then execute." - Professor Glenn Okun
Three teams of first-year MBA students went head-to-head, pitching their ideas for future business endeavors in the finals of Amazon's 2013 Innovation Competition. Hosted by NYU Stern's Entrepreneurs Exchange, the competition gives student teams three weeks to create an actionable product or service for Amazon. Top prizes for this year's winners included a Kindle Fire and a job interview with Amazon.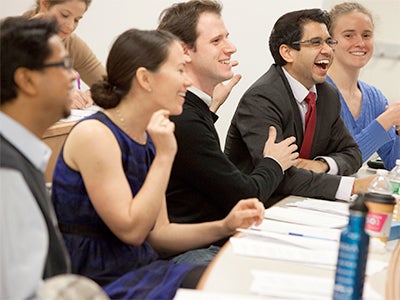 MBA students Aditya Basu, Casey Klippel, Abhay Mavalankar, Christina Connor and Nate Tavel (pictured above) took first place for their venture idea, "Amazon Box," a subscription service through which Amazon customers receive monthly deliveries of curated products for a low monthly fee.
The second and third place prizes went to "Amazon Egg," presented by Jennifer McInnis, Vitor Pontual, Evan Trost, Andres Vitale and Miranda Wilson, and "Amazon Experience: Amazon in Airports," presented by Emma Fisher, Emily Goldfrank, Marie Ravistre and Laura Silverman.
David Nenke, Amazon's Category Leader, Grocery, in concert with
Glenn Okun
, NYU Stern Professor of Management and Entrepreneurship, developed this competition in 2012 to address the accelerating pace of change in business. Now in its second year, the competition aims to foster innovation and entrepreneurial thinking among MBA students and centers around "think big," one of Amazon's key leadership principles.
Student proposals were reviewed by Amazon executives David Nenke, Laura Ridlehoover, Meredith Bunche (Stern MBA '13) and Harmony Davis (Stern MBA '12) at an on-campus event in December. Finalists were judged on their level of innovation, the quality of their proposal, their analysis and solutions to potential problems posed by their innovation ideas.
"Building on our success from last year, Amazon's 2013 competition challenged students to think innovatively," explains Professor Okun. "The event also identifies students who can take on an entrepreneur's role within an established company – ones who have big ideas, can devise strategies to develop their ideas into a business, and can then execute."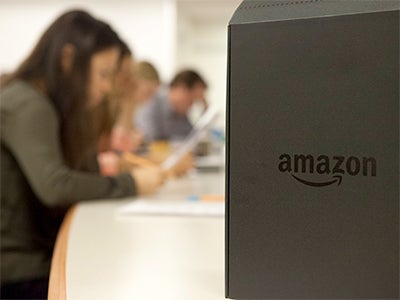 ---