MBA Students Compete in Amazon.com Innovation Competition
Three teams of MBA students went head-to-head, pitching their ideas for future business endeavors in the finals of Amazon's Innovation Competition.
Student teams competed for prizes ranging from a Kindle Fire to a job interview at Amazon's Seattle headquarters by writing proposals that answer the question, "If I were at Amazon I would totally …"
Full-time MBA students Ben Colman and Austin Clements (pictured below) took first place for their venture idea, "Amazon Air," which seeks to offer fast, secure and convenient access to the Internet using Amazon hot spots. The second and third place prizes went to "Immersive E-Reading," presented by MBA students Taj Corinaldi and Justin Lewis, and "Campus Van," presented by Arjun Kathuria.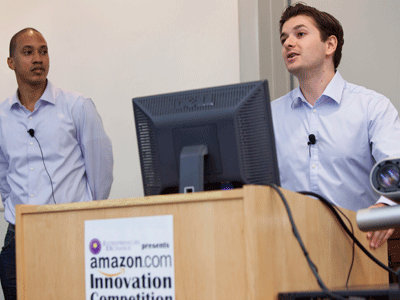 David Nenke, Amazon's Category Leader, Grocery (pictured below), in concert with
Glenn Okun
, NYU Stern Professor of Management and Entrepreneurship, developed this new competition to address the accelerating pace of change in business today. Structuring the competition to foster innovation and entrepreneurial thinking among MBA students, they chose "think big," one of Amazon's key leadership principles, as the concept around which to focus the competition.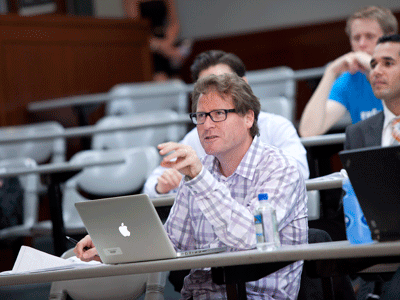 Student proposals were initially reviewed by Amazon management, and teams who were selected to participate in the finals then pitched their ideas to Amazon executives, including Lindsay Donikian, David Nenke, Michael Pesce, Michael Podwal, Ganesh Rao and Davide Tararbra, at an on-campus event. Finalists were judged on their level of innovation, the quality of their proposal, their analysis and solutions to potential problems posed by their innovative ideas.
"Ever the innovator, Amazon is introducing a new type of recruiting process for a new type of business," said Professor Okun. "This competition aims to challenge MBA students to think innovatively and to identify students who can take on an entrepreneur's role within an established company. Amazon is seeking students who not only have big ideas, but who can also devise the strategies to develop their ideas into a business, and then execute on those strategies."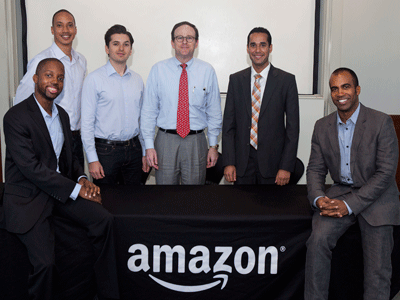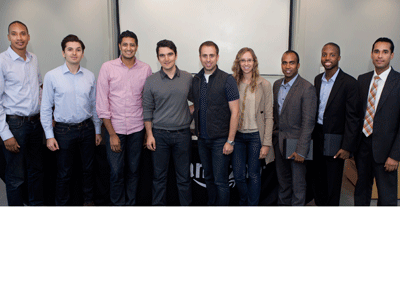 ---