Andre J.L. Koo to Receive NYU's Albert Gallatin Medal for Outstanding Contributions to Society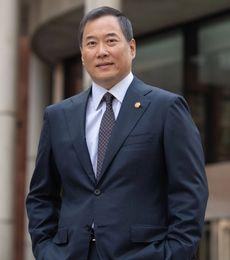 Today, Stern alumnus Andre J.L. Koo (MBA '94), Chairman of the Chailease Group, Chair of the NYU Stern Executive Board, and member of the NYU Board of Trustees, was selected by NYU as this year's sole recipient of the Albert Gallatin Medal for Outstanding Contributions to Society. Mr. Koo will be honored at NYU's Pre-Commencement events in May.

The Albert Gallatin Medal for Outstanding Contributions to Society
First awarded in 1957, the Albert Gallatin Medal, named for the University's principal founder, is one of NYU's highest honors. Medal recipients are those who have demonstrated exemplary leadership and a commitment to improving the lives of others, and whose civic legacy and achievements distinguish them from their peers. Mr. Koo joins an extraordinary list of past recipients that includes the developers of the polio vaccine, Jonas Salk and Albert Sabin; political scientist and American diplomat, Ralph Bunche; the first woman in the US to serve on a state supreme court, Florence Allen; opera singer and patron of the arts, Alice Tully; writer, aesthete, and NYU benefactor, Sir Harold Acton; and august Stern School alumni including Leonard N. Stern (BS '57, MBA '59), Kenneth G. Langone (MBA '60), John A. Paulson (BS '78), and Howard M. Meyers (BS '64); among many others.

"In his tireless championing of the Stern School and NYU, Andre truly stands in a class of his own," said Raghu Sundaram, Dean, NYU Stern. "His energy, vision, and dedication to our students, alumni, and community are remarkable, to say nothing of his extraordinary generosity and the time he pours into the Stern and NYU community; his leadership has been transformative for Stern and for NYU."

"To serve my alma mater is an extraordinary privilege of which I am very proud," said Mr. Koo. "NYU and Stern have elevated what it means to deliver a world-class education. To be recognized by the University is a tremendous and unexpected honor I am humbled to receive."

"I could not think of a more fitting recipient than Andre to receive this medal of recognition for his magnificent contributions to the NYU community," said William R. Berkley (BS '66), Chairman of NYU's Board of Trustees and Chair Emeritus of NYU Stern's Executive Board. "I am absolutely thrilled that Andre will receive this prestigious medal this year from NYU."

Andre J.L. Koo's Legacy at NYU Stern
Mr. Koo and his family have longstanding ties to the Stern School, ties that include alumni from three generations of the Koo family—Mr. Koo's father, the late Dr. Jeffrey Koo (MBA '62); Mr. Koo himself; and his sons, Andre Koo Jr. (BS '18) and Matthew Koo (BS '24)—and a munificent philanthropic legacy including scholarships and an endowed faculty chair. In 2015, Stern honored Mr. Koo and his family during a dedication ceremony for the Andre J.L. Koo Lobby, a high-traffic hub at the School which, thanks to the support of the Koo family, was transformed into a modern convening place for the Stern community. Less than two years later, Stern named its innovative one-year specialized MBA program the Andre Koo Technology & Entrepreneurship MBA Program in recognition of yet another landmark gift from Mr. Koo and his wife, Jana. Today, this program, which represented a new category of focused MBA programs, is one of Stern's most popular; applications have increased nearly 120% since launch; the class has been at or near gender-parity since inception; and most cohorts achieved a record-breaking 100% employment rate within three months of graduation.

Mr. Koo has served as a member of the Stern Executive Board since 2012, and, in July 2019, became the first internationally-based business leader to serve as the Board Chair. His commitment to NYU extends beyond Stern; apart from being a member of the NYU Board of Trustees since 2013, he also founded, and is currently president of, the NYU Pan-Asia Alumni Association. Mr. Koo is also a member of the President's Global Council, and president of the NYU Alumni Club in Taiwan.
 
He is Chairman of Chailease Group, which is comprised of Chailease Holding and Yellowstone Holding. Chailease Holding, the core Taiwan financial services company, was founded in 1977. It is listed on the Taiwan Stock Exchange and has operations in Taiwan, the United States, China, Thailand, Vietnam, Malaysia, Cambodia, the Philippines, and Indonesia. Chailease Holding provides clients with leasing, installment sales, factoring, and direct financing services. It is the market leader of leasing and installment sales in Taiwan, a top solar energy developer in the country, and the largest foreign-owned independent leasing company in China. Yellowstone Holding owns subsidiaries that engage in a number of diverse business activities including direct investment, trading, real estate development, interior design, hospitality, food and beverage, property management, and security.

About New York University Stern School of Business
New York University Stern School of Business, located in the heart of Greenwich Village and deeply connected with the City for which it is named, is one of the nation's premier management education schools and research centers. NYU Stern offers a broad portfolio of transformational programs at the graduate, undergraduate, and executive levels, all of them enriched by the dynamism and deep resources of one of the world's business capitals. NYU Stern is a welcoming community that inspires its members to embrace and lead change in a rapidly transforming world. Visit stern.nyu.edu.
---