Ajay Banga, President & CEO of MasterCard, to Keynote NYU Stern's 2014 Graduate Convocation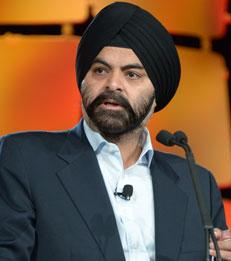 Who
:
Ajay Banga
, President & CEO of MasterCard, Keynote Speaker, NYU Stern's 2014 Graduate Convocation ceremony
When
: May 22, 2014, 3:00-6:30pm
Where
: Radio City Music Hall, Sixth Avenue between 50th and 51st Streets, New York, NY
Additional Information on Keynote Speaker Ajay Banga
Mr. Banga will talk about the importance of diversity in driving innovation and defining a great leadership culture, especially at a time when business can be a crucial force for good in the world.
Mr. Banga is president & CEO of MasterCard. He is a member of the Board of Overseers for the Weill Cornell Medical College and the American Red Cross, and chairman of the US-India Business Council. Previously, he was CEO of Citigroup Asia-Pacific and in senior management roles at Nestlé and PepsiCo.
About NYU Stern
Founded in 1900 and located in the heart of Greenwich Village, New York University Stern School of Business is one of the world's premier institutions of management education. With its more than 300 faculty and three Nobel Prize winners, NYU Stern offers graduate and undergraduate academic programs that use New York City and global hubs around the world as classroom environments for learning.
To RSVP to NYU Stern's Graduate Convocation ceremony, please contact Carolyn Ritter in Stern's Office of Public Affairs at
critter@stern.nyu.edu
or 212-998-0624.
---