Business and Policy Leader Events
NYU Hosts Panel on Mindfulness in the Workplace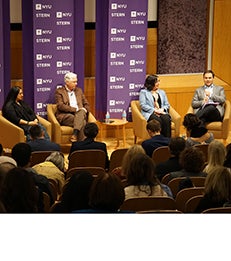 Students, administrators and faculty from across NYU convened in Paulson Auditorium at NYU's Stern School of Business this April for a panel discussion entitled, "Beyond Deep Breaths: Transforming the Workplace Through Mindfulness." Moderated by David Gelles, financial reporter at
The New York Times
and author of
Mindful Work
, the panel featured Dr. Amishi Jha, neuroscientist, researcher and associate professor at the University of Miami; NYU Law School alumna Janice Marturano (JD '82), founder and executive director of the Institute for Mindful Leadership and strategic leader within General Mills for nearly 15 years; and Jeffrey Walker, former CEO of CCMP Capital and former managing partner of JP Morgan Partners.
Hosted as part of NYU Stern's
Mindfulness in Business Initiative
and co-sponsored by the
NYU Leadership Initiative
and
Mindful.org
, the panel explored the opportunities, challenges and effects of implementing mindfulness in their organizations.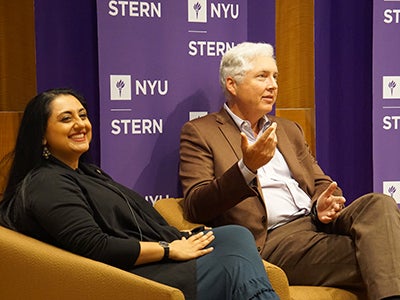 "Attention is a scare resource," explained Dr. Jha, who pointed to research that she has conducted with military men and women and with university students, showing that a regular mindful meditation practice has a positive effect on focus and concentration. According to Marturano, mindfulness meditation is being embraced by an increasing number of business leaders as a means to gaining more clarity, focus and compassion. Similarly, Walker underscored several additional benefits to a mindfulness practice, including pain management and improved sleep.
___
The Mindfulness in Business Initiative is a collaboration between NYU's Stern School of Business and NYU Global Spiritual Life. The initiative aims to transform business leadership in the 21st century on a national and global level by integrating mindfulness into the core of how business schools prepare their students. The initiative is funded by a grant from the Lenz Foundation.