Book Talk: A More Just Future with Professor Dolly Chugh and Senior Associate Dean Victor Mullins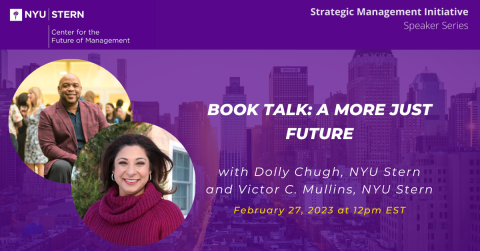 Date: Monday, February 27
Time: 12:30pm ET
Location: Virtual, register here

Join award-winning Stern professor, psychologist, and author Dolly Chugh in conversation with Stern's beloved Senior Associate Dean for Diversity and Inclusion Victor Mullins as they look at the emotional relationship we have with our country and its complicated past. Dolly will spotlight actionable stories and science from her latest book, A More Just Future: Psychological Tools for Reckoning with Our Past and Driving Social Change, most recently featured in the Wall Street Journal's 2022 Year in Review section. Known for her vulnerable, funny, and compassionate voice, Dolly will introduce what it means to be a "gritty patriot" offering attendees hope, resilience, and an emotional toolkit.

For more information, please visit the center's website.
---